---
Last Updated December 20th, 2021
What is the South Beach Diet?
The South Beach Diet is one among the most popular weight loss programs that have been the talk of the town for over a decade. It is a diet plan that has been credited for its low-calorie intake. This diet plan helps reduce weight rapidly without hunger and also has been beneficial in enhancing heart health. Dr. Arthur Agatston, a Florida based cardiologist created the South Beach Diet in the mid-1990s.
Being a cardiologist Dr. Arthur was keen on maintaining his patient's heart health. His vast research in the field of cardiology led to the invention of the Agatston score. Agatston score is a measurement that is used to measure the amount of calcium density in the coronary arteries. After much observation on the Atkins diet (a low carb diet program), he wasn't convinced due to the high intake of saturated fats implemented in Atkins diet and came up with a diet plan on his own. He crossed all odds and implemented a diet that can be allowed to overweight, prediabetic, and diabetic individuals to shed weight and gain heart health.
Thus, he came up with the South Beach Diet which included low-glycemic-index carbs, unsaturated fats, and lean proteins. He experimented the diet on himself and as a result, he lost weight and belly fat. After his positive results, he began to prescribe the same to his patients who reported the same benefits.
Steps to the South Beach Diet
The South Beach Diet plan consists of three different phases. The first two phases are associated with weight loss while the third phase plays a vital role in weight maintenance.
PHASE 1: This phase lasts for a period of 14days. Phase 1 is considered the most restricted phase in the entire diet. This phase involves the limitation of fruits, other higher-carb foods, and grains. This helps reduce the insulin and blood sugar levels, reduce pangs of hunger or craving, and stabilize hunger sensation. During this phase, you are allowed to consume three meals a day. These meals are constituted with lean protein, low amounts of healthy fats, non-starchy vegetables, and legumes. In addition to your three meals, you are allowed to consume two snacks which can preferably be a mixture of vegetables and lean proteins. During phase 1 people tend to lose 8 to 13 pounds (3.5 to 6 kgs) of body weight.
PHASE 2: Phase 2 starts on the 15th day and can be continued for weeks until you reach your desired weight. All found from phase 1 are added with a limited portion of fruits, whole grains and to some extent certain types of alcohol.  During this phase, you tend to lose 1 to 2 pounds (0.5 to 1 kg) on a weekly basis.
PHASE 3: This phase is achievable only after you reach your weight loss target. In this phase, you should keep in mind to follow phase two with an occasional addition of treats to your diet. This phase helps maintain your weight at a constant level. However, it is best to avoid overeating as it can result in weight gain and then you would have to begin from square one.
What to eat in each phase of the South Beach Diet?
Foods included in phase 1:
Lean protein: Though there is no restriction to the quantity it is always advisable to consume smaller portions and then return for another if hungry. The lean proteins that are included in phase 1 are:
Lean Lamb
Lean Veal
Lean Pork
Lean beef
Turkey bacon
Skinless chicken breast
Skinless turkey breast
Turkey pepperoni
Fish and shellfish
All parts of the eggs
Meat substitutes those are soy-based
Low-fat cheese (hard, ricotta, and cottage cheese)
Low-fat dairy, Greek or plain yogurt, soy, and kefir milk can consume only two cups in a day.
Vegetables: All vegetables can be added to the diet except beets, corn, yams, white potatoes, carrots, turnips, and other winter squash.
Legumes: The consumption of legumes is limited to one-third a cup or half a cup per day. It is essential to cook legumes. The legumes that should be added in the diet include:
Black-eyed peas
Split peas
Bean varieties (black, pinto, garbanzo, navy, and kidney beans)
Hummus (only quarter cup)
Soybeans
Edamame
Lentils
Nuts and Seeds: Only 28 grams of nuts are allowed in a day. The nuts that can be used in the South Beach Diet include:
Nut butter (only two tablespoons in a day)
Seed varieties like sesame, chia, pumpkin, and flax seeds
Nut varieties like macadamias (native Australian nuts), pistachios (belong to the cashew family), cashews, pecans, almonds, and other nuts.
Healthy oils and fats: Only two tablespoons of oils and fats are allowed on a daily basis. The use of monosaturated oils is encouraged during this phase. The oils and fats that can be used include:
Vegetable oils like peanut, safflower, flaxseed, corn, soybean, grapeseed, and sesame oil can be used.
Monosaturated oils like macadamia, avocado, olive, and canola oils.
Olives (20-30 depending on the size)
Low-fat mayonnaise (two tablespoons only)
Trans-fat-free margarine (two tablespoons only)
Normal mayonnaise (two tablespoons only)
Sugar (3 grams can be used for salad dressing)
Avocado (a two-third portion of one fruit)
Sweet treats: Care should be taken only to consume 100 or lesser than 100 calories per day. The sweet treats that can be used include:
Unsweetened chocolate or cocoa syrup
Gum, popsicles, and candies (sugar-free)
Jams, jellies, and gelatin (sugar-free)
Xylitol and erythritol (sugar alcohols)
Stevia (a sweetener and sugar substitute)
Condiments: The consumption of condiments isn't limited but it is advisable to use them to a certain extent. They help provide flavor and aroma to the entire diet. The condiments used in the diet include:
Vinegar varieties with balsamic restricted to one tablespoon
Spices and herbs
Broth (a savory liquid with meat or vegetables)
Lemon juice
Horseradish (a root vegetable used as a spice and prepared as a condiment)
Mustard
Salsa (sauces typical of Mexican cuisine)
Light coconut milk (quarter cup)
Miso, soy, or steak sauce (one and a half tablespoon)
Cream (whole milk or half milk, one tablespoon)
Cream cheese (two tablespoons)
Light sour cream (two tablespoons)
Light whipped topping (two tablespoons)
Beverages: Although the consumption of beverage is unlimited it is still advisable to consume caffeine in moderation. The beverages included in the diet are:
Tea (regular, herbal, or decaffeinated)
Vegetable juices (especially tomato juice)
Sodas (sugar-free)
Coffee (regular or decaffeinated)
Foods included in phase 2 and 3
Phase 2 in South Beach Diet consists of all the food items specified in phase 1 with a gradual increase in higher carbs intake. One fruit serving and whole grain or starchy vegetables are added in phase 2. After two weeks in phase 2 you are allowed to consume three servings of fruits, and four servings of starchy vegetables or whole grains on a daily basis. Alcoholic drinks can be occasionally consumed during phase 2 and 3. Alcoholic drinks such as light beer and dry wine are allowed with limited consumptions.
You are instructed to continue with the above-mentioned foods until you achieve your goal. Once the weight loss goal is achieved phase 3 emphasizes on maintaining the lost weight. In phase 3 you can consume the same foods enlisted in phase 1 and 2 however you can occasionally add a sweet treat and there aren't any limitations for foods in this phase. Foods that are allowed in phase 2 and 3 includes:
Fruits
Whole grains such as hot cereal, bread, pasta, farro, quinoa, bagel, tortilla, corn, and pita bread
Starchy vegetables such as yams, sweet potatoes, peas, rabatage (swede), and turnips.
Light beer (not more than 355 ml)
Red or white wine (dry, not more than 118 ml)
What NOT to eat in the South Beach Diet?
Foods to avoid in phase 1
It is of great importance to avoid fatty foods that contain high carbs. The foods that need to be avoided include fruits and grains too. The foods that are exempted in phase 1 include:
Butter
Foods that contain refined sugar
Alcohol
Fruit juices
Whole milk
Poultry
Fatty meat
Root vegetables such as carrots, beets, white potatoes, winter squash, turnips, and yams
Foods to avoid in phase 2 and 3
Phase 2 of the South beach diet puts a hold on the intake of fatty meats, highly refined foods, foods with natural sugar, and saturated fats. It is, however, essential to avoid the following foods:
Alcohol (except light beer and dry wine, limited consumption)
Fruit juice
Fruits such as figs, watermelon, raisins, dates, and pineapple
Natural sugars such as maple syrup, agave nectar, and honey
Coconut oil
Butter
Foods containing refined flour or sugar
Poultry
Fatty meat
A sample South Beach Diet plan
Below mentioned is a snapshot of a typical day in a South Beach Diet plan.
This is how your diet looks when you are in phase 1:
Breakfast: 3 eggs and 1 cup kale cooked with 1 tsp olive oil
Morning Snack: 1 oz (28 grams) string cheese with bell pepper slices
Lunch: Roasted salmon and asparagus salad with mustard vinaigrette
Evening Snack: Celery sticks with 2 tsp peanut butter
Dinner: Lean steak with broccoli
This is how your diet looks when you are in phase 2:
Breakfast: Peanut butter oatmeal
Morning Snack: 1 cup cucumber slices with 1/4 cup hummus
Lunch: Chicken salad with apple-walnut
Evening Snack: Cottage cheese with cherry tomatoes
Dinner: Pork fajitas with 1/3 cup guacamole
However, the South Beach Diet isn't scrutinized to just the above-portrayed sample. There are numerous recipes that can be incorporated in the diet which are cheap, and easy to find.
How helpful is the South Beach Diet?
Helps in weight loss without hunger
It is a high-protein, low card diet which plays a vital role in weight loss
It helps increase your metabolic rate due to its protein content. The presence of protein reduces hunger levels and maintains fullness. By doing so, you naturally consume a lesser amount of food.
It contains healthy carbs are added slowly as the diet progresses. This aids in continuous weight loss and encourages them to sticker longer to the diet plan.
It contains a high intake of fatty fish which help fight inflammation.
The diet contains heart-healthy foods such as eggs, nuts, extra virgin olive oil, seeds, and other relevant foods.
What are the drawbacks of this diet?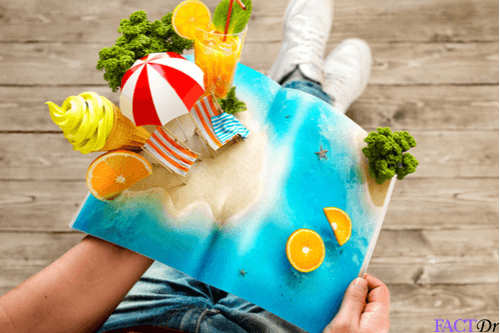 The first major concern that pops up is it over restrictive qualities related to amounts and types of fats to be consumed. Secondly, it creates an opportunity for you to consume harmful types of fats such as soybean oil and safflower oil. These two oils are accountable for its high content of omega-6 fatty acids. Lastly, the use of coconut oil is restricted. Coconut oil is widely known for the several health benefits it nurtures.
Is this the right diet for you?
Well, the answer is yes, indeed. The South Beach Diet is one of the healthiest ways of eating food that contain lower carbs. The diet also makes sure that dieters eat unprocessed foods. It also uses a whole lot of vegetables and high-fiber carb sources. However, on the dark side, it allows the consumption of vegetable oil which may lead to many health risks. All said and done, the South Beach Diet is one among the sustainable way of eating food to lose weight in a healthy manner.
---
Subscribe to free FactDr newsletters.
REVAMP YOUR
LIFE
HEALTH
WELLNESS
If you're enjoying our website, we promise you'll absolutely love our new posts. Be the first one to get a copy!
Get factually correct, actionable tips delivered straight to your inbox once a week.
We hate spam too. We will never share your email address with anyone. If you change your mind later, you can unsubscribe with just one click

By clicking Subscribe, I agree to the FactDr Terms & Conditions & Privacy Policy and understand that I may opt out of FactDr subscriptions at any time.
Help
Others
Be
Fit