---
Last Updated December 20th, 2021
Challenges to mental health during covid-19
COVID-19 pandemic has disrupted our lives in many ways. Apart from the constant threat of a potential infection, people are insecure about their jobs, and financial instability. It appears to be a huge challenge to remain emotionally stable and fit during this impending crisis. The raging number of deaths, absence of vaccines and medications, lack of social interaction between colleagues and family members, home-schooling, and prolonged confinement at home has taken a toll on our physical and mental health.
The altered way of living, fear, unemployment, and loneliness is causing depression, anxiety, and even suicidal thoughts. Even healthcare providers and frontline workers are going through extreme fear and trauma about their health, as they have to take care of COVID patients, exposing themselves to the virus on a regular basis. Those with psychiatric problems may be adversely affected by the pandemic and could witness an exacerbation of their disorder.
Symptoms of mental health problems during covid-19
During a pandemic, it is natural to feel stressed and anxious. However, if these feelings are overwhelming, strong and constant, then probably you are dealing with mental health problems that need immediate attention. Here are a few symptoms to look for:
Difficulty sleeping– there is a change in your normal sleep pattern
You are having a hard time concentrating on normal household work or office work
You are feeling irritated all the time
Difficulty in completing tasks
Periodic mood swings
Increase in the use of alcohol, tobacco, or drug abuse
People with a history of mental health problems may appear withdrawn and isolate themselves from others
Children may feel cranky, moody, and irritated all the time
Risk of mental health problems during covid-19
Your mental health depends on several factors such as your emotional wellbeing, family, societal support, background, financial viability, health, etc. The pandemic has affected all of us in some way or the other and most of us are anxious about the unabated risk of the coronavirus disease. However, some people may react differently to the virus outbreak and may be at higher risk of an emotional breakdown.
The vulnerable lot is: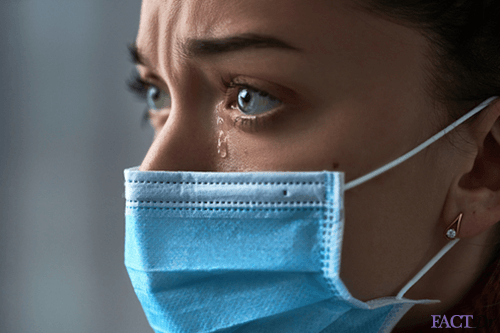 Covid-19 sick patients at home or hospital infected by the coronavirus disease, may undergo anxiety about their health
Caregivers taking care of sick family members or patients at home are prone to acute stress
Healthcare providers like doctors, nurses, and frontline workers are at direct risk of contamination
Elderly people living alone with underlying medical problems
Children and teenagers seem to have taken the worst hit of the coronavirus. Many students seeking admissions this year or planning to go abroad for education or employment have to postpone their plans, leading to depression and anxiety.  Examinations have been cancelled and students are worried about their future. It is extremely difficult for young kids to stay within the confinements of home all the time without any social interaction. This can be harmful to their mental health and many young teenagers succumb to depression during this time
People working in essential services like transport, banks, food services, public safety, law and enforcement, public health, etc.
Unemployed or those that have lost their jobs during the pandemic
People who have mental health issues or had a history of mental illness in the past
Those living alone or have been isolated due to travel restrictions
People grieving the loss of their loved ones due to the pandemic
Tips to cope with mental health problems during COVID-19
It is quite natural to feel stressed and anxious during these hard times. However, we can follow some simple steps to cope with these feelings and keep ourselves physically fit and emotionally strong during this time. Take a look at some tips to cope with mental health problems during this time.
Understand social distancing during covid-19
One of the main reasons that we are feeling depressed is due to the prolonged stay at home. It is imperative that we understand the importance of home isolation as directed by the health department. The intention of home isolation and lockdown is to restrict our movements outside. Since there are no vaccinations or available treatments for coronavirus, social distancing is the only way to protect ourselves from contamination of the virus. Unfortunately, many people especially the younger population are feeling burdened by prolonged isolation. It is our duty as parents and responsible citizens to follow the safety instructions and explain the importance of social distancing to young people, especially teenagers. We must follow the safety instructions as outlined by the health department. One of the easiest ways to cope with anxiety and depression is to stay healthy. Practicing self-hygiene and physical distancing will help you stay healthy and improve mental health.
It is okay to feel anxious during the covid-19 pandemic
It is completely normal to feel depressed and anxious during these hard times. Acknowledging your feelings will help you accept the situation and move on. Talk to friends and family members if you are feeling down or overwhelmed lately. This will help you channelize your thoughts and be more proactive to handle the situation.
Stick to your daily routine
Do not divert from your normal daily activities. Get up early and finish your chores. Eat healthy food and exercise regularly. Get enough sleep and give rest to your body. If you are working from home, try to maintain discipline at your home workstation. Keep your desk clean and tidy and always dress up properly for your video conferences. Students doing online classes should attend their classes on time. Interact regularly with your teachers and study mates, and exchange ideas and thoughts. Staying positive is extremely important during these challenging times.
Take care of your health
Now that you are home, use this time to prepare healthy and tasty meals for your family. Healthy diet is important for boosting your immunity and fighting the virus. Include a lot of fresh fruits and vegetables rich in antioxidants into your diet. Add proteins into your diet like eggs, meat, fish, milk, etc. Avoid junk and processed foods. Cut down your sugar and salt intake. Drink plenty of water and fresh fruit juices. Keep well hydrated during this time.
Stay physically active
Believe it or not, the COVID-19 pandemic has taught us how to stay active within the confines of our home. Now that we cannot always go out for jogging or walking in the parks, we can do plenty of free-hand exercises at home.
Allot a time during the mornings or evenings and ask your kids and other family members to join you during this time. This will help increase blood circulation, reduce blood pressure, and help you manage your weight while staying at home. People suffering from ailments like diabetes or heart diseases and older people should go out for brisk walks on the terrace or the garden. Ask a family member to join you during this time. This will help you strengthen your bones and muscles. It will keep you physically fit and improve your overall feelings.
Take good care of children
Schools and colleges have been closed and students are now taking online classes. School closures and physical distancing can make children and teenagers feel isolated, bored, and depressed. Apart from that, the death of loved ones and constant news feeds of coronavirus disease can traumatize a child. Parents must support their children and explain to them the significance of home isolation. If there is a death in the family, support them as much as possible and help them cope with the loss. Help your kids in school activities and studies. Involve them in fun activities, creative hobbies, and also include them in household chores and help them feel safe at home.
Learn new skills
Now that we are confined at home, why not use this time to learn new skills or develop a new hobby? Distract your mind from negative thoughts. Learn new skills and pursue your hobbies such as baking, gardening, reading, singing, and stitching. Students can also enroll in online courses on various EdTech platforms and learn new courses such as gamification, web designing, foreign languages, coding and many more.
Keep yourself well-informed and reject rumors
Keep yourself updated with the facts of coronavirus disease. Always follow reliable news sources and avoid listening to rumors and misinformation. Restrict your exposure to news channels. Constant news feed of coronavirus disease can affect your mental health as well as your family members. Watch entertainment channels, movies, and comedy shows. Read good books and spend quality time with your family. Do not spread misinformation and unverified news.
Stay connected with friends and family members
Be supportive of your family members, friends, and colleagues. Call them and support them if they are feeling lonely or isolated. You can always stay connected through video calls, messages, and chats. Form community forums and online clubs on zoom or Google Meet and have fun-time with your loved ones. If a person is infected, do not shun them. Instead, support them and ask them if they need any help.
Stay emotionally strong
If you are infected, do not lose hope. Most of the infected people recover fully from the disease and therefore you must stay strong during this time. If you are feeling lonely or irritated, ask for help or talk to friends or family members. Do not use alcohol, tobacco, or drugs to cope with the situation. Some people may even have suicidal thoughts. If you are living alone and feeling emotionally unstable, do not hesitate to call emergency services or helpline numbers. Always remain connected to your family members and ask for their support whenever needed.
Subscribe to free FactDr newsletters.
REVAMP YOUR
LIFE
HEALTH
WELLNESS
If you're enjoying our website, we promise you'll absolutely love our new posts. Be the first one to get a copy!
Get factually correct, actionable tips delivered straight to your inbox once a week.
We hate spam too. We will never share your email address with anyone. If you change your mind later, you can unsubscribe with just one click

By clicking Subscribe, I agree to the FactDr Terms & Conditions & Privacy Policy and understand that I may opt out of FactDr subscriptions at any time.
Help
Others
Be
Fit