---
Last Updated December 20th, 2021
What is bone broth?
Bone broth – sounds savage – straight out of the ancient times when the man was a hunter-gatherer. In reality, nothing savage about this plain hot liquid. Known for being full of nutrition, in certain cultures, it is still an integral part of daily food. Throughout history, there is proof in most cultures that in some of the other form, serving bone broth was a tradition.
Despite the presence of different kinds of supplements and artificial ways of replacing essential elements and deficiencies in our body, bone broth has in the last couple of years gained sudden popularity. So much so that there is a so-called bone broth craze going on. In 2015, long queues of people, during lunch hours, were seen outside New York restaurants serving different flavored broths.
This sudden popularity, however, doesn't have anything to do with the newly discovered, life-enhancing effect of bone broth. Other than, how this hot liquid feels inside on a cold day, no new revelations have yet been made. It has been projected by Global Market Insights, Inc that by 2024, the global Broth market will be more than USD 2.8 billion by 2024.
Very little has ever been documented scientifically in terms of how bone broth helps our overall health. On top of that, there is no documented recipe with specific instructions to make a bone broth. Most cultures believe that bone broths are supposed to be simmered for many hours for the nutrition from the bones to dissolve into the liquid but there are varied cooking times for different broths.
Popular beliefs
The feel-good image of broth or soup may have contributed to creating certain concepts and perceptions about what it is good for without much substantial proof. Right from weight loss to brighter skin to better bones – people have been attributing this concoction to sorts of goodness. Some believe that because there is a lot of collagen in bone broths, which is the binding element for the body, it increases the amount of collagen in our body. Bone broth champions believe it helps with joint pains, stomach inflammation, and even insomnia.
Composition and Benefits
Based on popular belief and what dieticians all over the world are saying, bone broths have a very rich composition in terms of vitamins and essential elements.
Animal bones, knuckles, marrow, skin, connecting tissues when boiled down to broth vitamins like phosphorous, magnesium, calcium are released from them. These minerals are essential in maintaining bone density and formation of new bone.
Fish broth contains iodine which is essential to prevent thyroid related dysfunction and healthy metabolism.
It contains omega 3 and omega 6 fatty acids which store a lot of energy.
It is believed to be helpful in the digestive process. First of all, bone broth in itself is easy to digest. It has gelatin which binds itself to liquids in our digestive system helping food to move smoothly. Gelatin also secretes an amino acid called glutamine which helps in better functioning of intestines.
A lot of women in today's age suffer from degenerative bone problems at a very young age. Collagen which is one of the revered ingredients in bone broth is known for supporting joint health. Amino acids like proline and glycine which are present in connecting tissues are produced when collagen is broken down.
Glucosamine and chondroitin are found in animal cartilage which joins our bones. These compounds are also present in bone broth.
It potentially can help in weight loss as it is rich with essential elements and does not release too many calories. A lot of vegetables that are not very popular can be consumed in a broth. Broth can fill you up and satiate your hunger without consumption of a lot of heavy foods. Because water is the main ingredient of the broth, most of it passes through the digestive system without getting absorbed.
Glycine which is an amino acid is known to help with sleeplessness. A lot of people go through shallow or no sleep nights. Having bone broth can help in getting deeper and sounder sleep.
It is said that the amino acids in collagen which are present in connecting tissues and flesh help in toning up our skin. Skin becomes tighter reducing the lines of aging.
Broth Recipes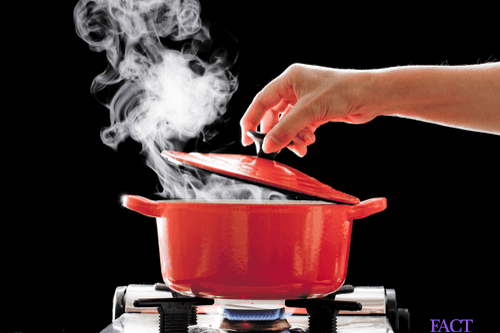 Though there are no specific ways of making a broth, here are a few recipes to enjoy this hot, nutritious food:
Easy bone broth with veggies
Ingredients
2 chicken frames, without meat, about 3 pounds of chicken bones (or 1 turkey frame), Chicken feet (optional), 2 small onions ( peeled and cut into quarters), 2 medium carrots (peeled or scrubbed and cut into large chunks), 3 stalks celery (washed and cut into large chunks), 4 cloves garlic (peeled and smashed), 1 1-inch knob of ginger (washed and peel left on), 1 bay leaf, 6-10 peppercorns, 1 Tbsp. apple cider vinegar, 4 quarts filtered water, more or less, to fill the slow cooker crock
Instructions
Place bones and chicken feet, if using, into a large stock pot.
Add onions, carrots, celery, garlic, bay leaf and peppercorns.
Fill pot with enough filtered water to cover the bones.
Add apple cider vinegar (this helps leach minerals and collagen from the bones as it cooks and is a crucial ingredient).
Bring to a boil and skim the scum that rises to the top with a large spoon.
Reduce heat to LOW and simmer, covered, for 24 hours adding additional boiling water, if needed, to keep the bones submerged.
After 24 hours, remove from heat and allow the broth to cool slightly before straining through a fine-mesh strainer.
Broth may be stored in Mason jars with lids in the fridge for up to 5 days (remove a layer of hardened fat before use).
Quinoa and Vegetable Fall Stew
Ingredients
2 tablespoons olive oil, 1 yellow onion (chopped), 1 red bell pepper (stemmed, seeded and chopped), 4 large garlic cloves (minced), 1 tablespoon smoked paprika, 1/2 tablespoons ground cumin, 1/2 teaspoons ground coriander, 6 cups low sodium vegetable broth, 1 pound red potatoes cut into 1/2 inch pieces, 3/4 cup of prewashed quinoa, 1 cup frozen corn, 3 Roma tomatoes (cored and chopped), 1 cup frozen peas, juice of one lime, salt and pepper to taste.
Instructions:
In a large (4 quart), heavy-bottomed pot, heat oil over medium heat. Add onion and bell pepper and sauté until softened (about 7 minutes).
Add garlic, smoked paprika, cumin, and coriander and stir to coat vegetables. Add broth and potatoes and bring the liquid to a boil over high heat.
Reduce heat to medium-low after reaching a boil and gently simmer for about 12 minutes
Add quinoa and corn and cook until quinoa is tender (about 9 minutes).
Add tomatoes and peas. Remove from heat and season with salt, pepper and lime juice. Serve with optional ingredients for garnish.
In the earlier times, the whole point of a broth was to slowly infuse the goodness of bones, nutrients of vegetables into it. That is why it took more than 24 hours for a broth to be made. It also minimized wastage. But it is unthinkable that any household has the leisure of time to be able to cook something for more than an hour or simply cook anything. Bone broths are now available in the market in form of packaged powder. There are branded packaged broth available as well.
Skeptics say
Two years ago when this hype for broth was slowly rising, TIME magazine in the US published an article called "Science Can't Explain Why Everyone is Drinking Bone Broth." This article had a portion of William Percy's commentary on how healthy bone broth is. Prof Percy is an Associate Professor with the University of South Dakota and works at the Sanford School of Medicine. When asked about the most revered component of bone broth he said, "Since we don't absorb collagen whole, the idea that eating collagen somehow promotes bone growth is just wishful thinking. The idea that because bone broth or stock contains collagen it somehow translates to collagen in the human body is nonsensical. Collagen is actually a pretty poor source of amino acids."
Dr. Kantha Shelke of the Institute of Food Technologists has stated that vegetables, especially green leafy vegetable are a much more prominent source of collagen.
Articles published on Harvardhealth website states: A 1934 nutritional analysis in The Archives of Disease in Childhood concluded that bone broths are not of "great nutritional value." There is no scientific evidence, however, to support many of the claims for any type of bone broth.
Supporters
Michal Ofer who is a wellness and digestion expert and nutrition coach writes in her blog "Properly prepared bone broths are extremely nutritious, containing the minerals and amino acids of all the superfoods: bone, cartilage, marrow, collagen, gelatin with the addition of vegetables as electrolytes – all in a form that is easy to assimilate. Because of its dense-nutritive properties and bioavailability, the benefits of bone broth are seemingly endless."
Michelle Gimbar who is the Director of Nutrition Services at Bridgewater Center for Nursing & Rehabilitation, Binghamton, New York wrote in the Journal of Renal Nutrition that this whole fascination with bone broth is because of the rising popularity of 'Paleo Diet'. She states "Bone broth recipes can be found in popular "Paleolithic-based" cookbooks and is being touted as a way to relieve ailments from arthritis to wound healing. With this food trend gaining strength, you can find prepackaged bone broth next to customary broth products in your local grocery store."
A study done in Taiwan and published in Food and Nutrition Research in 2017, concludes that though foods like bone broth or soup are good for health for their nutrient value. However, because of the inconsistency in bone tissue structure and mineral distribution, it is not possible to standardize a home remedy like this.
Be it general public, dieticians, celebrities or doctors, clearly bone broth and its benefits can't be substantiated by anyone beyond doubt. Other than the fact that it feels good to have bone broth during a nasty cold or even when you are burning up, the fact that it has survived through ages and civilizations could be the testimony of its value for life.
Subscribe to free FactDr newsletters.
REVAMP YOUR
LIFE
HEALTH
WELLNESS
If you're enjoying our website, we promise you'll absolutely love our new posts. Be the first one to get a copy!
Get factually correct, actionable tips delivered straight to your inbox once a week.
We hate spam too. We will never share your email address with anyone. If you change your mind later, you can unsubscribe with just one click

By clicking Subscribe, I agree to the FactDr Terms & Conditions & Privacy Policy and understand that I may opt out of FactDr subscriptions at any time.
Help
Others
Be
Fit