---
Introduction
Lipoma refers to a tumor usually found below the skin. The fatty lump is non-cancerous and therefore harmless. Lipomas grow at a very slow rate and can migrate from below the skin when we apply pressure to them. Most lipomas are located in the abdomen, neck, arms, and neck. Lipomas are common in both men and women. However, women are a bit more prone to lipomas. They are more prevalent in individuals aged between 40 and 60 but can also occur at any age. They affect 1 out of every 1,000 individuals in their lifetime. Some people are born with lipomas. A lipoma often displays the following characteristics:
Colorless
Soft to touch
Slow growth
Located beneath the skin
Move with ease in case you press with your finger
Oval in shape or round
Less than 2 inches in diameter
Encapsulated: They rarely spread to the adjoining tissues
Causes and risk factors
Lipomas can be hereditary, while certain medical conditions can also trigger their development. Examples of health conditions that may cause lipomas include Gardner syndrome, Dercum's diseases, and Madelung's disease, among others.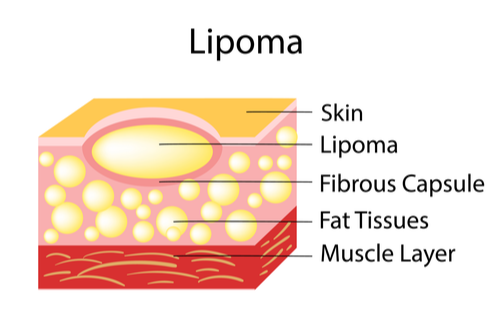 Other risk factors for lipomas include:
Age: as one gets older, so does the risk for lipomas
Obesity: Individuals with excess weight are more predisposed to lipomas
High cholesterol: The presence of fat tissue beneath the skin could be an indication of high cholesterol
Lipomas are rarely painful and neither do they cause any major health concerns. For this reason, you need not treat a lipoma. Nonetheless, in case you are bothered by a lipoma, you can talk to your doctor so that treatment can begin.  While lipomas are not cancerous, it is important to examine them with the help of a healthcare professional, especially if a change in noticeable in the skin.
Types of lipomas
Lipomas are of various kinds. Your doctor will differentiate them on the basis of tissue appearance under a microscope.
Atypical lipoma: This type of lipoma contains deeper fat. In additions atypical lipoma is characterized by numerous cells
Myelolipoma: The fat tissues in this kind of lipoma yields white blood cells
Conventional lipoma: A conventional lipoma is the most common type of lipoma. It contains white fat cells that help store energy
Angiolipoma: This kind of lipoma consists of blood vessels and fat. Unlike other lipomas, angiolipomas may get painful
Fibrolipoma: They consist of fibrous tissue and fat
Pleomorphic: Consist of fat cells of different shapes and sizes
Treatment options
Non-surgical methods also help in the treatment of lipomas. These methods include various home remedies, homeopathic treatments and prescription drugs.
Home remedies
Some of the home remedies available for treating lipomas include:
Sage: Sage herbs are widely in use to treat lipomas naturally, due to their ability to attract fat. Sage extract helps to dissolve the fat in lipomas. Moreover, sage extracts assists with body fluid balance.
Turmeric: The turmeric spice is effective in reducing the size of lipomas. The curcumin ingredients in turmeric powder also helps to avoid the recurrence of lipomas. Mix olive oil with 1 tablespoon of turmeric powder to make a soft paste. This is the paste that you will need to apply on the lipoma. A bandage avoids coloring of the lipoma due to the yellow dye of turmeric
Chickweed: The chickweed herb is also a natural remedy for treating lipomas. It does this by avoiding fat accumulation
Thuja occidentalis: This is yet another natural remedy for treating lipomas. Add the thuja extract to water and form a paste. Apply this paste on the lipoma. Make sure you only use thuja with the guidance of an expert as it calls for dietary modification
Homeopathy
The following homeopathic treatments are useful in treating lipomas:
Sulphur: The use of sulphur for treating lipomas is recommended for patients who experience excessive sweating. Individuals who are sensitive to heat or those who consume sugary foods in large quantities will also benefit from sulphur
Calcarea Carb: This homeopathic medicine is ideal for treating lipomas in overweight patients. The patient manifests in such symptoms as a craving for specific types of food, sensitivity to cold and excessive sweating. Individuals who suffer from acidity and constipation will also benefit from Calcarea Carb treatment
Belladonna: Bellodonna is a useful  homeopathic remedy for treating painful lipomas. It relieves pain in addition to also dissolving the lump of fat  
Allopathy
One of the non-surgical treatments for lipoma is liposuction. The doctor inserts a needle into the lipoma to suck out the fat cells. The patient can go home after liposuction. It is important however to know that this is not an effective treatment for lipomas when compared to surgical removal.
Steroids assist in treatment of lipomas. Doctors give steroids as a single triamcinolone Acetonide injection. Collagenase and statin formulation are especially useful in lipoma reduction. This is because it results in the shrinkage of fatty tissue
When to go for surgery
Lipomas do not usually require treatment. Your doctor will most likely recommend that you just wait and observe the lipoma. However, you might require lipoma surgery under the following conditions:
When the aforementioned remedies, that is, homeopathy, home remedies and allopathy have proved to be ineffective
In case diagnostics test indicate that the lipoma is cancerous
If the lipoma continues to grow in size
In case the lipoma turns red and is painful
If the lipoma is hard and immobile
Procedures/methods available under surgery
Some of the surgical procedures for treating lipomas include:
Surgical excision mainly helps with removal of lipomas. Before the procedure, the surgeon draws an outline of the lipoma. He or she will also draw an outline of the planned incision on the skin. Such an outline delineates margins after administering an anesthetic.The procedure takes place under a local anesthetic.  The surgeon administers the anesthetic around the tumor, to numb the area. In case of a deep or large lipomas , the surgeon may decide to use general or regional anesthesia.
Once the anesthetic has started working, your surgeon makes an incision around the skin where the lipoma is located . The surgeon cuts out the tumor. The doctor stitches together the area of incision. The procedure is over in a short time and you can go home after overnight observation or after several hours.
Excision
In case of larger lipomas, the best way to surgically remove them is  via incision in the skin. Your surgeon configures such an incision to appear like a fusiform excision, in keeping with the tension lines of the skin. Such tension lines tend to be smaller in comparison with the underlying tumor.
The surgeon grasps the central island of skin using a hemostat. This tool allows the surgeon to offer traction as the surgeon tries to remove the tumor.
Next, the surgeon makes a dissection below the subcutaneous fat. A no. 15 scalpel helps for tissue curtailing.
The next step is to attach clamps or hemostats to the tumor. These tools offer traction so that the surgeon can remove the rest of the growth.
The surgeon palpates the tissue that surrounds the hole which is the site of lipoma removal. This promotes the complete tumor removal.  
Enucleation
This procedure is recommended for the removal of small lipomas.
During the enucleation procedure, the surgeon makes an incision of about 3-4 mm over the lipoma.
He or she places a curette inside the wound. This helps in freeing the lipoma from the adjacent tissue.
After the tumor is freed, it is thereafter enucleated via the incision. The curette helps with the enucleation process.
There is no need for sutures. However, the surgeon will apply a pressure dressing to avoid hematoma formation.
Laser lipolysis
You can also opt to undergo a laser lipolysis procedure. This type of surgery makes use of laser to shrink a lipoma by melting the fat cells.
Laser lipolysis is preferred to the other surgical procedures to remove lipomas for the following reasons:
It is minimally invasive
There are no incisions involved
No bleeding
There is minimal bruising, pain or swelling after the procedure
The procedure takes a shorter time than the other procedures (about 30 minutes)
Quick recovery
Laser lipolysis is administered under local anesthetic. The surgeon makes a small incision beneath the skin where the lipoma is located. The incision allows your surgeon to insert a tiny laser that is directed at the lipoma. The aim of this laser is to assist with the liquifying of fat using laser energy.
The surgeon will thereafter suck the melted fat using a tiny tube referred to as a cannula.
Surgery options
Once your doctor has made it clear that surgery is the only option to treat lipoma, your next question should be about where you need to have this procedure. We can generally categorize health care facilities that offer lipoma surgical services into two: small clinics and large hospitals. Small clinic include private clinics and health centers while large hospitals can be either private  or public health establishments. The decision on whether to have the surgery at either a small clinic or a large hospital will depend on the following factors:
Surgeon's fees: The fees payable to your surgeon will vary, depending on whether the healthcare professional is in private practice on in a public hospital. You are likely to pay less for surgery fees in a public hospital than in a large private hospital or clinic.  
Health insurance: Most health care insurance plan should pay for  lipoma surgery. It is important however to liaise with your health insurance provider as the healthcare plan may not cover all the costs involved.
Convenience: Lipoma surgery is not a major procedure and as such, it can be comfortably administered at your doctor's office. Therefore, if your doctor's private clinic is nearer to where you live, you may opt for it as opposed to having the procedure at a large hospital.
Small clinics
One advantage of having surgery to remove lipoma at a small clinic is that it presents you with a familiar environment. This is especially the case if this is your general practitioner (GP). Such a  familiar setting eliminates the fear and anxiety associated with surgery. Besides, the set up enables your doctor to provide you personalized care and attention.  
On the other hand, you are likely to miss out on the experience and multidisciplinary decision making of surgeons working at large hospitals. They have collectively administered hundreds of such procedures, thus improving their efficiency.
Large hospitals
Having lipoma surgery at a large hospital is beneficial in that you are likely to be attended by more than one health expert. This promotes effectiveness in decision making. In addition, large hospitals have well equipped recovery wards where you will be closely monitored by the medical team after surgery. Such facilities are missing in small clinics.
Large hospitals attend to hundreds of surgeries each month, including emergency procedures. If this happens, your surgery could be pushed further in the waiting list as it is not an emergency. Furthermore, large hospitals do not offer the personalized care and attention available at small clinics as the medical teams attend to a large number of patients each day.
Post-op care
 Most patients can go home a few hours after surgery, unless there are complications, which is very rare. The recovery period is determined by several factors, including the size of lipoma, type of lipoma and the nature of surgical procedure.
You are advised to go easy for the next few days after surgery. Take as much rest as possible to speed up the recovery process.
Avoid engaging in any strenuous activities, including lifting of heavy objects
At goficure, we help you to get highly discounted appointments with leading experts in lipoma treatment. We will also help in filling all the paperwork involved, including processing of insurance claim. Moreover, goficure will assist with arranging for your transport to and from hospital.
---