---
Last Updated December 20th, 2021
Therapeutic Indications
Atorvastatin belongs to a collection of drugs, named as HMG CoA reductase inhibitors. These drugs are popularly called "Statins". Atorvastatin is well-known and available under the brand name Lipitor. Atorvastatin assists in the reduction of low-density lipoprotein, which is nick-named as "bad" cholesterol.
This drug achieves the purpose by boosting the capacity of the body to throw out bad cholesterol through the liver and triglycerides in the blood. This statin works by elevating levels of high-density lipoprotein, or HDL, nick-named as "good" cholesterol. Atorvastatin could form part of combination therapy with other medicines. It is used in combination with exercise, diet and lifestyle changes to have the maximum effect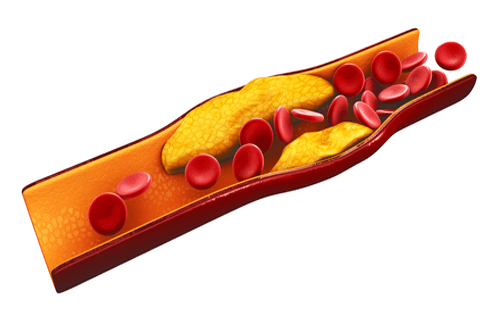 Atorvastatin is prescribed to alleviate the following health problems
Offset risk of heart attack
Reduce the risk of stroke
Stave off cholesterol build up in the arteries
Main prevention method in patients with high-risk factors for coronary heart disease
To reduce the risk of myocardial infarction (MI),
Lower risk of angina
Reduce the risk of revascularization procedures.
Effectively lower risk of victims of acute coronary syndrome (ACS).
Prevention of cardiovascular events in adult patients
Do I need a prescription?
All statins need to be consumed only on the advice of a qualified medical specialist. A prescription by a registered medical practitioner is mandatory due to the drug's contraindications and side effects.
Dosage
Atorvastatin is sold in its generic form as well as through the brand name, Lipitor. Atorvastatin oral tablet dosage and frequency will depend upon several factors, the most important being the medical condition it is being targeted for and the age of the patient. The dosage is always fixed after considering potential drug interactions and the presence of other medical conditions. How the patient responds to the first dose is also a key indicator to fix or alter the dosage.
Atorvastatin Oral tablet
Brand: Lipitor
Generic: Atorvastatin
Adult and Pediatric Dosage Forms & Strengths
Dosage for Heart Disease Prevention
Adult dosage (ages 18–64 years)
Initial dosage: 10–20 mg – one tablet per day.
Continued Dosage: 10–80 mg – one tablet per day.
Atorvastatin for children(ages 0–17 years) has not been approved for use yet. Therefore, children in this age group should not be prescribed this drug.
Senior dosage (ages 65 years and older): Prescription of Atorvastatin to senior adults must be done with caution as it can elevate the risk of side effects. Lowered efficiency of kidneys in senior adults causes the drug to remain in the system longer than it should. This is because the kidneys are unable to effectively process these drugs.
Hyperlipidemia (Marked by elevated levels of fat in the bloodstream)
This drug is prescribed along with significant dietary changes for treatment of high levels of Apo B, TG levels, total-Cand to increase HDL-C in patients with primary hypercholesterolemia (heterozygous familial and non-familial) as well as mixed dyslipidemia (Fredrickson type IIa and IIb)
Initial dosage:
10-20 mg tablets oral intake, one tablet daily
For patients that need higher LDL-C reduction, an initial dose of 40 mg is prescribed, which is one tablet to be taken once daily.
Maintenance
10-80 mg one tablet dosage once daily
Lipid levels must be checked after 2-4 weeks and dosage can be adjusted accordingly.
Hypertriglyceridemia (elevated levels of triglycerides)
Lipitor is prescribed along with strict diet changes to treat high TG levels (Fredrickson type IV)
Initial dosage:10 mg one tablet oral consumption once daily
Maintenance: 10-80 mg one table oral consumption once daily
Primary Dysbetalipoproteinemia
Patients with this condition Dysbetalipoproteinemia (Fredrickson type III) and who do not adequately respond to diet changes are prescribed atorvastatin in the following dosage
Lipitor Maintenance dosage: 10-80 mg one tab once daily taken orally
Lipid levels to be checked after 4 weeks of initiation or dose titration and dosage can be adjusted according to test results.
Homozygous Familial Hypercholesterolemia
In patients where total-C and LDL-C needs to be reduced along with or in combination with other drugs to lower lipid profile.
Adult dosage (ages 18–64 years)
Initial dosage: 10–20 mg one tablet per day.
Continued dosage: 10–80 mg one tablet per day.
Heterozygous familial hypercholesterolemia.
Child dosage (ages 10–17 years)
This tablet is prescribed for children between 10-17 years only if they are victims of heterozygous familial hypercholesterolemia. Children below the age of 10 are not prescribed Atorvastatin as the effect of this drug on children below 10 has not been fully understood yet.
Initial dosage: 10 mg one tablet per day.
Dosage can be increased till 20 mg – one tablet per day but not exceed this dosage in children
Senior dosage (ages 65 years and older)
Prescription of Atorvastatin to senior adults must be done with caution as it can elevate the risk of side effects. This is due to the fact that the efficiency of kidneys in senior adults is not adequate enough to process the drugs causing the drugs to remain in the system longer than it should.
For the senior adults that require the drug, a lower dosage is advised to reduce the side effects.
Chemical Composition
Atorvastatin Calcium Tablets
Brand Name: LIPITOR®
LIPITOR Tablets to be taken orally with the strengths 10, 20, 40 or 80 mg of atorvastatin contains the following ingredients.
Mechanism of Action (MOA)
LIPITOR works as a synthetic lipid- reducing agent. Atorvastatin is an HMG-CoA Reductase Inhibitor. This inhibits hepatic hydroxymethyl-glutaryl-coenzyme A (HMG-CoA) reductase, the enzyme that is in-charge of catalyzing the conversion of HMG-CoA to mevalonate. This is a significant step in the synthesis of cholesterol.
Further, Atorvastatin works to improve the number of LDL receptors on hepatic cell surfaces to boost the catabolism of LDL. Also, helps to lower LDL production and LDL particles. This agent helps to reduce lipoprotein levels and plasma cholesterol while also regulating immune responses. (NCI04)
This drug works to reduce levels of serum LDL cholesterol and triglycerides as well as Apolipoprotein B. It also works to increase levels of HDL cholesterol which aids in the effective treatment of Hyperlipidemias. These improvements in cholesterol levels help to stave off risks of cardiovascular disease, especially in those who portray risk factors of cardiovascular disease
Contraindications
Atorvastatin is not be prescribed in the presence of certain medical conditions or while consuming certain other medications. Details are indicated below:
Do not co-administer Telaprevir, Cyclosporine, tipranavir plus ritonavir, and gemfibrozil with Atorvastatin, as the chances of Rhabdomyolysis is high
Bile acid sequestrant: The medication atorvastatin should be taken 2 hours before or 4 hours after taking bile acid sequestrant
While consuming any of these drugs – Fosamprenavir: Itraconazole, Clarithromycin, Darunavir plus ritonavir, Saquinavir plus ritonavir, Fosamprenavir, care must be taken not to exceed Atorvastatin dose of 20 mg per day.
While on Lopinavir plus ritonavir, Atorvastatin dose should be as low as possible
While on Nelfinavir, boceprevir dosage of Atorvastatin should not exceed 40 mg/day
Adverse Reactions
Atorvastatin can trigger adverse reactions with the following type of drugs.
Birth control pills
Heart medication
Antibiotic
Antifungal medicine
Medication to reduce cholesterol
HIV or AIDS medication
Other drug interactions with ATORVASTATIN (LIPITOR)
It is imperative to ascertain the exact dosage, possible drug side effects, and interactions, with the doctor before starting, changing or cessation of Atorvastatin.
Major drug interactions of atorvastatin:
Pazopanib
Tipranavir
Orlistat
Gemfibrozil
Cyclosporine
Telaprevir
Red yeast rice
Moderate Interactions of Atorvastatin:
Coenzyme q10
Colestipol
Trazodone
Fluvoxamine
Loratadine
Ruxolitinib
Alvimopan
Armodafinil
Fexofenadine
Isradipine
Atorvastatin Disease Interactions
Caution is advised on the use of atorvastatin among victims of the following medical conditions. It is imperative to check with a medical specialist regarding use, dosage, and interactions of the drug especially among victims of the below outlined medical conditions.
Cognitive Impairment
Rhabdomyolysis
Liver Disease
Renal Disease
Pregnant or breastfeeding women should not take atorvastatin
Alcohol and Food Interactions
Completely give up eating foods that are laden with fat and cholesterol.
Alcohol is to be avoided as it can contribute to elevated levels of triglycerides. This may increase the risk of liver damage
Side Effects
The list below outlines common as well as rare side effects of Atorvastatin. This is just to give an idea of what the side effects could be, although all of them may not occur. It is important to consult with a doctor in the event of side effects after the consumption of this drug.
In rare cases, Atorvastatin can trigger a situation that causes the breakdown of skeletal muscle tissue, leading to kidney failure. With such an occurrence, medical help must be sought without delay. Unexpected pain in the muscle, tiredness, fever and such symptoms must be addressed.
Following symptoms demand immediate attention:
Burning sensation or pain during urination
Liver problems which can show up as symptoms like fatigue, discolored urine, upper stomach pain, appetite loss, jaundice
Kidney problems- Swelling in the ankle and legs, insufficient urine output, fatigue, breathlessness.
Common side –effects
Lower back pain
Difficulty in urination
Headache
Stuffy nose
Rare Side effects
Hives
Fatigue
tightness in the chest
fever
skin rash
Difficulty with swallowing
Faster heartbeats
Dizziness
Cough
Itching
Wheezing
Stiffness in muscles
Cramps
Pain/swelling and weakness of muscles
Puffiness of the face and features especially eyes
Side effects manifest during the body's adjustment process. They usually go away as the treatment progresses. Either way consulting with the medical practitioner is important to reduce the side effects.
What to Do If You Skip a Dose
The immediate action is to consume the dose as soon as you remember. Alternatively, let go of the missed dose in case the next dose is close or less than 12 hours away. It is very important not to take extra medicine to compensate for the missed statin.
Overdose
Important to seek immediate medical attention in case of an overdose of Atorvastatin
Generic Brand Names of Atorvastatin
Lescol (fluvastatin)
Pravachol (pravastatin, already available in generic form)
Livalo (pitavastatin)
Zocor (simvastatin, already available in generic form)
Crestor (rosuvastatin)
Lipitor (atorvastatin)
Mevacor (lovastatin, already available in generic form)
Different Brands and Manufacturing Companies of the drug
Nearly 266 companies are involved in the manufacture of generic Atorvastatin. This is not all, the newer brands and generics are being updated as and when they receive approval by the drug controller. A few examples of the different Atorvastatin brands are indicated below:
A Vin (10mg) Bestochem Formulations (India) Ltd.
Ctor (10mg) Clanthis Life Sciences (P) Ltd.
Atorva (10mg) Zydus Cadila Healthcare Ltd. (CND
Aarpik (20mg) Mefro Pharmaceuticals Pvt Ltd
AB Vas (10mg) Abs Remedies Pvt. Ltd.
Aarpik (10mg) Mefro Pharmaceuticals Pvt Ltd
Ab-Vas (10mg) Abs Remedies Pvt. Ltd.
Acrostatin (20mg) Acron Pharmaceuticals
Acrostatin (10mg) Acron Pharmaceuticals
Alip (10mg) Talent Healthcare
Substitutes for the Drug
Atorvastatin has six other substitute drugs which can be bought with a prescription. They are :
Simvastatin (simvastatin)
Lovastatin (lovastatin)
Crestor (rosuvastatin)
Pravastatin (pravastatin)
Vytorin (ezetimibe / simvastatin)
Zetia (ezetimibe)
References
Subscribe to free FactDr newsletters.
REVAMP YOUR
LIFE
HEALTH
WELLNESS
If you're enjoying our website, we promise you'll absolutely love our new posts. Be the first one to get a copy!
Get factually correct, actionable tips delivered straight to your inbox once a week.
We hate spam too. We will never share your email address with anyone. If you change your mind later, you can unsubscribe with just one click

By clicking Subscribe, I agree to the FactDr Terms & Conditions & Privacy Policy and understand that I may opt out of FactDr subscriptions at any time.
Help
Others
Be
Fit