---
Last Updated December 20th, 2021
What is Buckwheat?
Buckwheat is a plant which is used for making flour from the leaves and the flowers. The flour which is produced from the Buckwheat plant leaves and flowers is used as food as well as medicine. Buckwheat is considered as a superfood since it is loaded with various nutrients and minerals.

Buckwheat is a storehouse of a huge array of Vitamins which are very essential for the health of an individual. Buckwheat is also very essential for promoting weight loss as well as for preventing and controlling Diabetes.
What are the nutritional values of Buckwheat?
Buckwheat is loaded with loads of nutrients and minerals. The nutrients and the minerals in Buckwheat along with their values in 100 grams of Buckwheat are as follows:
| | |
| --- | --- |
| Nutrients and minerals | Values  |
| Calories | 343 |
| Carbohydrates | 71.5 grams |
| Water | 10% |
| Fibre | 10 grams |
| Fats  | 3.4 grams |
| Protein | 13.3 grams |
| Sugar | 0 grams |
| Potassium  | 577 milligrams |
| Phosphorous  | 347 milligrams  |
| Calcium  | 41 milligrams  |
| Iron  | 4.06 milligrams |
What are the Vitamins available in Buckwheat?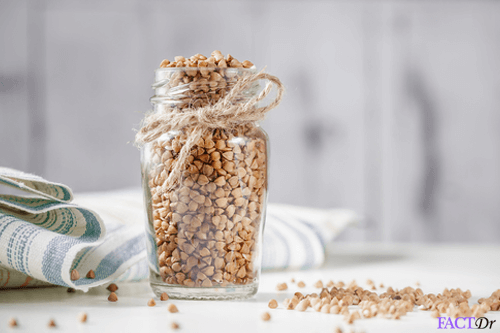 Buckwheat consists of varieties of Vitamins. Some of the most common Vitamins which are present in Buckwheat are as follows:
Thiamine

Riboflavin

Niacin

Folate or Vitamin B9

Vitamin K

Vitamin B6
What are the other plant compounds which are present in Buckwheat?
Buckwheat consists of several plant compounds in it which have extensive health benefits. Some of the most common plant compounds with their health benefits are as follows:
Rutin: The main antioxidant belonging to the polyphenol group which is present in Buckwheat is Rutin. It is highly helpful since Rutin helps in lowering the risks of cancer, maintains the perfect blood pressure. Rutin is even beneficial for improving inflammations and it also promotes a better condition of blood lipid profile.
Quercetin: Quercetin is an antioxidant which is found very commonly in various plant foods.it has very essential health benefits which include lowering cancer risk as well as Quercetin helps in promoting the heart health and hence prevents all the heart diseases and disorders.
Vitexin: Vitexin has several health benefits as it has anti-inflammatory, anticancer, antispasmodic, antimicrobial, antihypotensive, antiarteriosclerotic, antithyroid properties which are very helpful for maintaining a good health condition of heart, thyroid, etc. sn excessive intake of Vitexin may result in an enlarged thyroid in an individual.
D-chiro-inositol: It is a soluble carbohydrate which reduces blood sugar levels and hence helps in managing diabetes in an individual. Buckwheat is the richest source of D-chiro-inositol.
What are the health benefits of Buckwheat?
Buckwheat is rendered as a superfood hence it is recommended to be added in your regular diet. There are several health benefits to the consumption of Buckwheat. Some of the most known health benefits are as follows:
Eating Buckwheat promotes heart health
Buckwheat is a superfood since it consists of a lot of essentials nutrients and vitamins and minerals. These vitamins and minerals are very essential for maintaining the heart health of an individual. The Potassium, magnesium and the Folate content in the Buckwheat are very essential for regulating good heart health. It is always recommended to have whole grains in your regular diet because they have all the essential nutrient values.
Buckwheat is a whole grain, you should try adding it to your daily diet. The fibre content in buckwheat is extensively functional for regulating the cholesterol in your blood and hence helps in protecting your heart from any diseases and disorders such as Diabetes, Stroke and Obesity.
Improvement of the Digestion process
Fibre is the component which is responsible for promoting the digestion procedure in an individual. Fibre helps in increasing the roughage in the digestive tract of an individual which is very essential for easy passing of stool while excreting. Buckwheat also consists of Niacin or Vitamin B3 which breaks down the carbohydrates, fats, proteins in the food into energy for the body's cells.
Buckwheat helps weight loss
Buckwheat is a rich source of fibre which helps in a better digestion process. Fibre has a very small quantity of calorie content. Fibre helps in keeping a person full for a very long time and hence helps in cutting down on the consumption of more calories. Hence the consumption of Buckwheat in the regular diet can help a person lose weight.
Regulation of Diabetes
Buckwheat is a source of complex carbohydrate which takes longer time to get digested and hence the procedure of digestion is slowed down. The sugar level in the blood of an individual is stabilized as the complex carbohydrates get broken down slowly. Buckwheat is a good source of energy since it consists of a lot of carbohydrates.
Preventing the effects of PCOS(Poly Cystic Ovarian Syndrome)
The inability of an individual's body to utilize the D-chiro-inositol results in increasing the insulin resistance. The increased insulin resistance results in the condition called PCOS(Poly Cystic Ovarian Syndrome) which is very common in women of reproductive ages. Intake of D-chiro-inositol helps in increasing the insulin sensitivity, decreasing the testosterone level and the frequency of ovulation is paced up by the consumption of Buckwheat.
What are the side effects of Buckwheat consumption?
Consumption of Buckwheat has no major side effects. Some individuals might experience some allergic reactions such as swelling in the mouth or hives while eating Buckwheat.
What are the precaution guidelines for buckwheat consumption?
There are a few precautions to be adopted for Buckwheat consumption. It is not recommended to consume Buckwheat if you are under these conditions.
Pregnancy and breastfeeding
You should always make sure that you don't consume Buckwheat when you are breastfeeding. During the time of pregnancy also, it is recommended not to consume Buckwheat.
Buckwheat allergy
Some individuals have Buckwheat allergy and the consumption of Buckwheat can result in allergic reactions such as skin rashes, hives, runny nose, asthma, itching, swelling, drop in the blood pressure and difficulty in breathing which is termed as anaphylactic shock.
Allergy to latex or other food grains including rice
Some individuals are allergic to food grains such as rice and various other food grains. Buckwheat can be a good substitute for individuals who are allergic to other food grains.
Gluten allergy
The individuals who are allergic to gluten can always prefer eating Buckwheat since it is completely gluten-free.
3 healthy and tasty delicacies of buckwheat
Seeded Buckwheat cookies
The ingredients required for the preparation of the dish are as follows:
1 cup pecans

1 cup of Buckwheat flour

3/4th tablespoon of Kosher salt

1/2 teaspoon of baking powder

1 cup of flour which is used for al purposes

1 cup or 2 sticks of unsalted butter kept at room temperature

2/3rd cup of powdered sugar

2 teaspoon of vanilla extract

2 teaspoons of granulated sugar

1 teaspoon of white sesame seeds

1 teaspoon of black sesame seeds

1/2 teaspoon of poppy seeds
Preparation guidelines:
Preheat the oven at 350-degree Fahrenheit.

Take a rimmed baking sheet and place the pecans on them and roast it.

Keep roasting the pecans for 5-8 minutes till they turn nutty.

Let the pecans cool down after turning off the oven.

Combine pecans, buckwheat flour, salt, baking powder and a cup of all-purpose flour in a food processor and mix them until the pecans get finely ground.

Put your mixer on medium-high and beat the butter, powdered sugar and vanilla. Make sure that the mixture gets soft and fluffy. Keep mixing it for 4 – 5 minutes.

Divide the dough into two halves.

Each part should be wrapped in a plastic wrap.

Refrigerate or chill it for at least 2 hours until it gets very firm.

First, roll one disk of dough between two sheets of parchment paper which are lightly floured.

Transfer the whole thing to a baking sheet and remove the top sheet of the parchment.

Chill it for 30 miinutes again.

Mix some granulated sugar, sesame seeds and poppy seeds in a small bowl as the dough is getting refrigerated.

Reheat the oven over 350 degrees Fahrenheit.

Use a knife to cut out 2 inches of squares or diamonds from the chilled dough and keep the blocks on the baking sheet maintaining 1/2 inch gaps between each one of them.

Sprinkle it with Sesame mixture.

Bake the cookies until the edges become golden brown around the edges.

Use a container to collect the cookies after baking them and let them cool down before serving them.
Cauliflower-cashew soup with crispy Buckwheat
The ingredients required for the dish are the following:
1/2 cup of olive oil

4 large shallots which are very thinly sliced

2 thinly sliced cloves of garlic

2 bay leaves

2 teaspoons of fresh thyme leaves

Kosher Salt

1/2 cup dry white wine

1 large head of cauliflower which is cut into small florets and the stems should be chopped

1/4 teaspoon of cayenne pepper

3/4th cups of cashews. You can also add 2 extra spoons of cashews

Take 6 or more cups of vegetable stock

Black pepper freshly ground

2 tablespoons of Buckwheat groats

2 teaspoons of fresh lime juice

1/2 teaspoon of paprika
Preparation instructions
Take a cup and fill 1/4th of the cup with oil.

Preheat a medium-sized heavy pot and add shallots, garlic, bay leaves and thyme after heating the oil in the pot.

Keep cooking the mixture for 6 to 8 minutes until the shallots become translucent.

Add wine and keep cooking for almost 4 minutes until the quantity gets reduced to half.

Place 3/4th cup of cauliflowers aside to add them in a pot along with cayenne and 3/4th cup of cashews.

Season the whole mixture with salt and some pepper.

Reduce the heat to low and cover the pot.

Keep the pot covered and move the pot occasionally to make sure that all the vegetables have released all their water and the cauliflower has become fork tender. It might take 20-25 minutes.

Check it in intervals so that the vegetables do not start browning.

Add the vegetable stock and season it with salt and pepper according to the taste desired.

Boil it over low heat for 20 to 30 minutes until the cauliflower is falling apart.

Toss the bay leaves in that.

Mix the rest of the cauliflower with 2 tablespoons of cashews.

Heat the rest of 1/4th cup of oil taking a small skillet over medium heat.

Season it with salt after adding cauliflower, cashews and Buckwheat.

Keep stirring it until the cauliflower and the cashews become golden brown.

The Buckwheat turns crispy in 5 to 8 minutes.

Remove it from the heat and sprinkle paprika and add some lemon juice and let it cool down slightly.

You can also add more stock if you need and season the soup again with salt and pepper if required.

Serve the soup with a topping of roasted cauliflower and buckwheat mixture.
Pork chops with carrots and roasted Buckwheat
The ingredients which are required for the preparation of this delicacy are as follows:
1 orange

1 and ½ pounds of carrots which are halved lengthwise

1 finely grated garlic clove

Kosher Salt

2 tablespoons of olive oil

2 teaspoons of fresh lime juice

1 tablespoon of vegetable oil

3/4th cup of pearled Buckwheat groats

8 to 10 pounds of pork shoulder chops with thick bone-in

3 tablespoons of unsalted butter

1/4th cup pf dill sprigs

Aleppo or Urfa pepper or crushed red pepper flakes
Preparation guidelines:
Peel off the orange and discard all the white pith.

Squeeze out the juice of the orange well.

Preheat the oven over 450 degrees and toss carrots, garlic and 2 tablespoons of olive oil on a rimmed baking sheet.

Season the mixture with salt and some pepper.

Toss the side of the carrots and keep roasting them until they become tender and brown. Keep roasting them for 15 to 20 minutes.

Add some segments of orange and orange juice while the carrots are yet hot. Toss 2 tablespoons of lime juice too. Mix it well and put the marinated carrot aside

Boil water in a large saucepan and cook the Buckwheat in it. Keep boiling the Buckwheat for 10 to 15 minutes until they are tender and falling apart.

After boiling the Buckwheat rinse it under cold water and drain the water well.

Spread out the Buckwheat on a baking sheet and let it dry.

Take some vegetable oil in a skillet and heat it over a high flame.

Marinate the pork with salt and cook it till the pinkish colour of the meat turns brownish.

Cook each side of the pork for 4 minutes.

Spoon 1 tablespoon of butter over the chops for 1 minute.

Place the pork on a cutter or a chopper board.

Add the Buckwheat which was cooled and 2 tablespoons of butter to the skillet.

Season it with salt and keep cooking until the Buckwheat is toasted well and become crispy. Keep cooking it for about 5 minutes.

Slice the porks and toss some dills into the Buckwheat.

You can serve your Buckwheat and carrots with slices of pork.
Subscribe to free FactDr newsletters.
REVAMP YOUR
LIFE
HEALTH
WELLNESS
If you're enjoying our website, we promise you'll absolutely love our new posts. Be the first one to get a copy!
Get factually correct, actionable tips delivered straight to your inbox once a week.
We hate spam too. We will never share your email address with anyone. If you change your mind later, you can unsubscribe with just one click

By clicking Subscribe, I agree to the FactDr Terms & Conditions & Privacy Policy and understand that I may opt out of FactDr subscriptions at any time.
Help
Others
Be
Fit