---
Last Updated December 20th, 2021
Is Food addiction a disease?
The recently published fifth edition of the Diagnostic and Statistical Manual of Mental Disorders (DSM-5) features Binge eating disorder (BED) as a distinct clinical entity. However, the opinion is still divided if food addiction should be considered a disease as the demarcation line is thin between hunger and food craving. Moreover, there are no clear signs of intoxication or withdrawal, no overt interruption of normal daily functioning, and no danger for overdose or death as far as food addiction is concerned.
The ominous signs of Food addiction
The main feature of food addiction is eating a huge amount of food in one go, repeatedly, over a prolonged period as if there is no self-control. The associated symptoms involve-
Consuming food at a rapid pace.
Eating till you feel bloated and uncomfortable.
Gorging on food even when you are not hungry.
Eating alone.
Eating covertly.
Feeling depressed and ashamed after the bouts of binge eating.
Being preoccupied with the thought of food.
Repeatedly setting goals to lose weight and failing at attaining the desired results.
Unable to resist from bingeing despite appearance of physical ailments.
Can we diagnose Food addiction?
The following warning signs should set the alarm bells ringing that you suffer from food addiction:
You eat a lot of food at a very rapid pace.
You tend to hide the amount of food that you are consuming.
You buy and store surplus food which is much more than your actual requirement.
You have started to put on weight. This however is not seen in all the cases. You may be suffering from food addiction and still be underweight or having normal body mass index.
Are some foods more addictive than others?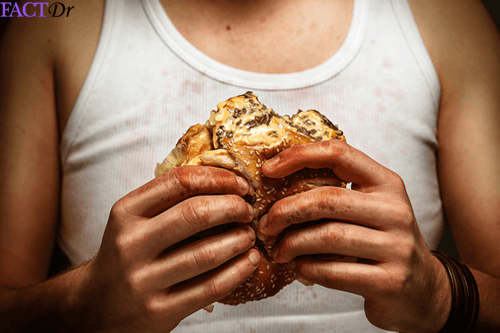 A person suffering from food addiction does not crave for all types of food. Some foods are more addictive than others. Most of these food types are processed foods-high in sugar and fat content. You won't find a person addicted to fruits, salads or soups or similar healthy diets. Some of the most addictive foods are-
Pizza
French fries
Burgers
Fried chicken
Popcorn
Steak
Bacon
Muffins
Ice cream
Soda
Cookies
Chocolate
Cheese
On the other extreme of the food spectrum are the articles which are least addictive. Not surprisingly, these comprise of whole, unprocessed foods. These are-
Risk factors for Food addiction.
Food addiction can manifest in men and women of all ages, but this disorder classically begins in the late teens or early twenties. The exact pathogenesis of food addiction is still not completely clear but the following risk factors predispose you to this disorder-
If you have a family history of food addiction or substance abuse including alcohol addiction.
If you suffer from depression or if you have a family history of depressive disorders.
If you are a type A personality or a perfectionist.
If you are prone to anxiety disorders.
If you suffer from low self-worth.
If you have been at the receiving end of abuse-physical, mental or sexual.
What is the treatment for Food addiction?
Presently, 2.1 billion people are considered obese or overweight in the world. This is akin to a global epidemic. The culprit in most cases is excessive consumption of unhealthy food items. So, the time is ripe to take food addiction seriously and not dismiss it as 'lack of will power.' It also should be kept in mind that mere dieting or resorting to the many 'fad' diets available online or in the market is not the solution to this deep-rooted issue. A multipronged approach is the need of the hour.
Self-awareness is the key– Food addiction is not merely due to lack of a strong will-it has its core multiple issues; biological, emotional and mental. These issues need to be addressed on priority.
Identify the triggers– An important intervention at treating food addiction is identifying and then facing up to the triggers that lead you on the path of binge eating. Some people are emotional eater-any strong emotion can lead to a binge. Be honest with yourself and try to change your response to the said trigger.
Break the routine– Man is a creature of habit and most of us follow a set pattern every day. A simple intervention of swapping the morning 'parantha' with a bowl of fruits can break the cycle. Hang out with friends who eat healthy and choose actives which are not food-centric. Do not go too hard on yourself. Aim for 'reduction', abstinence will follow for sure.
Ask for help– Do not be shy in asking for help. Talk to your partner or your family members regarding the food addiction that you suffer from. Creating a healthy life style change can be hard and time consuming. But if you have people around you who are willing to help you out or be a part of the journey to a healthier 'you', half the battle is won.
Psychological counselling– Talking to a counsellor about your condition can be a cathartic experience. You can share your doubts, misgivings and any deep-rooted emotional issues with a psychologist and try to get to the root of the evil-food addiction in this case.
Medical intervention– Psychiatric ailments like depression and anxiety lead to food addiction in some cases. Therefore, medical intervention at healing these disorders can be a way to arrest the food binges. Another intervention approved by the FDA is a combination of bupropion and naloxone. These drugs aid in fat loss.
Food addiction is a disorder like any other-nothing to feel ashamed of. Self-awareness coupled with a multidisciplinary approach can heal the mind and the body, ensuring a healthy and a joyful life
Help
Others
Be
Fit