---
Last Updated December 20th, 2021
Weight loss pills
Weight loss pills are called as pharmacological agents that can reduce or control weight. Weight loss drugs alter one of the fundamental processes of the human body for weight regulation, which is done by altering either appetite or absorption of calories. Weight loss pills contain more than one active ingredient intended to increase the burning of fat, decrease the appetite, or minimize the absorption of fat.
Health care providers use the Body Mass Index (BMI), which is a measure of the weight in relation to the height, to define overweight and obesity. Generally, people who have a BMI between 25 and 30 are considered to be overweight. A person is considered obese if the body mass index (BMI) is 30 or greater. A person who is overweight or obese may have an increased risk of health problems.
Obesity is a chronic condition that affects many adults. If a person is struggling with weight, the doctor might suggest following a healthy eating plan and regular physical activity to help lose weight. If these lifestyle changes are not enough to help a person lose weight or achieve weight loss, the doctor may prescribe medications as part of the weight-control program.
Why should you go for weight loss pills?
Appetite Suppression
Eating foods that contain fiber and protein may help keep a person feel full, but these foods are rich in calories, and weight loss can be achieved only with caloric restriction. However, diet pills can offer appetite suppression ingredients that will keep the cravings at minimal and will not involve caloric intake. Stimulants such as caffeine have the ability to reduce appetite.
Diuretic Effect
Diet pills not only help reduce body weight by fat burning but may also reduce the amount of water the body is retaining, which also reduces weight. Compounds that flush water out of the body are called diuretics.
Decreased Lipogenesis
Many supplements concentrate on promoting fat-burning effects, but the prevention of the development of new fat, a process called lipogenesis, is important as well. Many diet pill supplements are known to have this effect. However, there is one ingredient that does appear to reduce the chances of lipogenesis is betaine. Betaine is known to reduce the activity of genes that are known to promote lipogenesis.
Increased Resting Energy Expenditure
Many supplements encourage increased energy levels, which helps you burn more calories during exercise, but you may also want to increase energy expenditure during resting. This means a person will be burning more calories while he or she is resting. Studies have shown that just multivitamin and mineral supplement is enough to increase energy expenditure.
Beware of these side-effects
In some cases, the side effects of prescription medications to treat overweight and obesity can outweigh the benefits. For this reason, a person should never take a weight-loss medication just to improve the way that a person will look.
In earlier days, some weight-loss medications were also linked to serious health conditions. For example, the FDA recalled fenfluramine and dexfenfluramine in 1997 because of concerns related to heart valve problems. Possible side effects vary by different medication and how it reacts on the body. Most side effects are mild and most often improve if you continue to take the medication and very rarely serious side effects can occur.
The right way to take weight loss pills
Follow your doctor's instructions about weight-loss medications.
Buy medication from a pharmacy or web distributor approved by your doctor.
It is recommended to consider weight-loss medication to support healthy eating and physical activity program.
A person is advised to learn about the side effects and warnings for taking any medication.
Ask the doctor if you should stop taking your medication if you are not losing weight after 12 weeks.
Discuss other medications, including supplements and vitamins with the doctor when planning to take weight-loss medications.
It is strictly advised to avoid taking weight-loss medications during pregnancy or when planning a pregnancy.
Medications for Obesity Treatment
There are many different weight loss solutions which include all sorts of pills, drugs, and natural supplements. These products claim to help lose weight or at least make it easier to lose weight combined with other methods.
These products tend to work via one or more of these mechanisms:
Weight loss pills can reduce appetite and make a person feel more full so that he or she eat fewer calories
Weight loss pills can reduce the absorption of nutrients like fat, which in turn makes a person consume fewer calories
Weight loss pills can increase fat burning and allows a person to burn more calories.
Orlistat (Xenical): Available in a small dose without prescription named (Alli). It is approved for adults and children in the ages 12 and older. Xenical works in the gut to reduce the amount of fat the body absorbs from the food we eat. Side effects include diarrhea, oily stools, and abdominal pain. Note: Minimal cases of severe liver injury have been documented. It is recommended to avoid taking with cyclosporine and take a multivitamin pill daily to make sure the body gets enough of certain vitamins that the body may not absorb from the food.
Lorcaserin (Belviq): Approved for adults. Belviq acts on the serotonin receptors in the brain and creates a feeling of fullness after eating smaller quantities of food. Side effects include dizziness, hard stools, feeling tired, headaches, and cough. Note: Inform the doctor if taking antidepressants or migraine medications since some of these medications can cause problems when taken as a combination.
Phentermine-topiramate (Qsymia): Approved for adults. Qsymia is a mix of two medications: phentermine, which reduces the appetite, and topiramate, which is used to treat medical conditions such as seizures or migraine headaches. May make a person feel less hungry or feel full. Side effects include dry mouth, constipation, dizziness, tingling of hands and feet, change of taste with carbonated beverages. Note: Not recommended to use if a person has glaucoma or hyperthyroidism. Inform the doctor if already had a heart attack or stroke, abnormal heart rhythm, kidney disease, or mood problems. Qsymia is known to cause birth defects and Qsymia is not advised for a pregnant woman or during breastfeeding.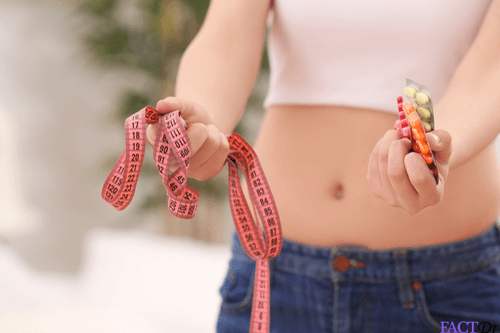 Naltrexone-bupropion (Contrave): Approved for adults. This is a mix of two medications namely: naltrexone, which is helpful in treating alcohol and drug dependence whereas bupropion is used to treat depression or make people quit smoking. May make a person feel not to be hungry and have a feeling of fullness. Side effects include nausea and vomiting, dizziness, high blood pressure, constipation, liver damage. Note: Do not use if there is uncontrolled high blood pressure, seizures, history of anorexia or bulimia nervosa. Not to use if the person is dependent on opioid pain medications or withdrawing from drugs or alcohol. Do not use if taking bupropion which is (Wellbutrin, Zyban). It is known to increase the occurrences of suicidal thoughts or actions.
Liraglutide (Saxenda): Approved for adults. Saxenda may make a person feel less hungry or full sooner. At a lower dose, it is available as Victoza. FDA has approved this medication to treat type 2 diabetes. Side effects include increased pulse, nausea, headache, diarrhea, stomach pain. Note: There is a chance of developing pancreatitis and was found to cause a rare type of thyroid tumor in animals.
Phentermine, Benzphetamine, Diethylpropion, Phendimetrazine: Approved for adults. These medications are known to increase chemicals in the brain to make a person feel not hungry or feel full. FDA has approved, but only for short-term use up to 12 weeks. Side effects include feeling nervous, hypertension, increased pulse rate, insomnia, dry mouth. Note: People suffering from heart disease, uncontrolled high blood pressure, hyperthyroidism, or glaucoma are advised to not use. Inform the doctor if suffering from severe anxiety or other mental health problems.
Garcinia Cambogia Extract: Approved for adults. This medication is known to prevent a fat producing enzyme in the body and increase the levels of serotonin, which in turn can help reduce the feeling of hunger. May cause gastrointestinal problems.
Hydroxycut: Approved for adults. Hydroxycut contains numerous ingredients that are known to help with weight loss, including caffeine and a few plant extracts. Side effects include anxiety, irritability, diarrhea, tremors, nausea. Note: People who are sensitive to caffeine should avoid taking this medication.
Caffeine: Approved for adults. Caffeine is known to boost the metabolism of a person by 3% to 11% and increase fat burning by up to 29%. Side effects include loss of sleep, anxiety, nausea, jitteriness, diarrhea. Note: Caffeine is a known addictive and can hinder the quality of sleep.
Raspberry Ketones: Approved for adults. Raspberry ketones have the ability to increase the breakdown of fat and increase levels of a hormone called adiponectin, which is believed to help in weight loss. Side effects include burps smelling like raspberries. Note: There is not even a single study of raspberry ketones on humans.
Green Coffee Bean Extract: Approved for adults. Caffeine is known to increase fat burning whereas chlorogenic acid is known to slow the breakdown of carbohydrates in the human gut. May cause diarrhea. Note: Caffeine is known to be addictive and can reduce the quality of sleep.
Glucomannan: Approved for adults. Glucomannan absorbs water and turns into gel-like. It sits in the gut and promotes a feeling of fullness, helping a person to eat fewer calories. Side effects include bloating, soft stools, and flatulence. Note: It can interfere with some of the oral medications if consumed at the same time.
Meratrim: Approved for adults. It has the ability to make it harder for the fat cells to multiply and decrease the amount of fat they collect from the bloodstream and finally burn the stored fat. Note: It is relatively a new drug in the market.
Green Tea Extract: Approved for adults. Green tea extract can increase the activity of norepinephrine, which is a hormone that helps a person to burn fat. Side effects include allergies related to caffeine. Note: Caffeine is known to be addictive and can reduce the quality of sleep.
Conjugated Linoleic Acid (CLA): Approved for adults. CLA reduces appetite, boost metabolism and encourage the breakdown of body fat. Side effects: CLA may cause various gastrointestinal side effects. Note: CLA can have harmful effects when taken over the long term. CLA can contribute to developing fatty liver, insulin resistance, and increased inflammation.
Forskolin: Approved for adults. Forskolin is known to raise levels of a compound inside cells called cAMP, which encourages fat burning. Note: There is very limited data available on the safety of this supplement or the risk of side effects.
Bitter Orange / Synephrine: Approved for adults. Synephrine is known to have similar mechanisms as ephedrine but is less potent. Synephrine can reduce appetite and promote fat burning. Note: Synephrine may have serious side effects related to the heart and may also be addictive.
Final advice on weight loss
It has to be understood that there is no shortcut for any weight reduction and these weight loss pills should be used to aid in reducing the weight and not to be used without having appropriate lifestyle changes.
References
Subscribe to free FactDr newsletters.
REVAMP YOUR
LIFE
HEALTH
WELLNESS
If you're enjoying our website, we promise you'll absolutely love our new posts. Be the first one to get a copy!
Get factually correct, actionable tips delivered straight to your inbox once a week.
We hate spam too. We will never share your email address with anyone. If you change your mind later, you can unsubscribe with just one click

By clicking Subscribe, I agree to the FactDr Terms & Conditions & Privacy Policy and understand that I may opt out of FactDr subscriptions at any time.
Help
Others
Be
Fit