---
Last Updated December 20th, 2021
Precautions during a COVID-19 pandemic
The COVID-19 pandemic has infected millions of people worldwide. It is causing panic among people, who are finding it difficult to adjust to day-to-day life amid the global crisis. Our lives have changed in unprecedented ways and with the nonavailability of any vaccine or treatment, it is challenging to fight the disease.
With office and public places like restaurants, malls, and religious places opening up, it is important to be extra careful and take adequate precautionary measures to keep ourselves safe from the disease.
As public places are opening up, many people are also becoming more careless. This can be life threatening. In this context, it is crucial that we become aware of the safety tips and precautions and follow them strictly for our safety as well as our family members.
In this article, we will talk about some basic safety tips to protect ourselves from this impending crisis.
Basic safety tips for covid-19
Wash your hands properly
Use soap and clean water to wash your hands thoroughly for 20 seconds at least.
Repeat this process several times a day. An alcohol-based hand sanitizer is necessary if you are visiting a public place. Spray the hand sanitizer, rub it all over your hands in a circular motion, and allow it to dry. Your hand sanitizer must contain at least 60% alcohol for killing the germs. Avoid touching your eyes, face, nose, mouth, or other body parts without washing your hands. The appropriate situation to wash your hands is :
After you return from a public place or from work
Before having breakfast, dinner, lunch, or other meals
After coughing or sneezing
After you come out of the washroom
Before touching your children, pets, or elderly family members
After taking care of an infected person
Maintain social distance
Social distancing is vital for restricting the spread of the disease and of COVID-19 virus. Stay at home as much as possible and go out only when necessary.
Maintain a distance of at least 6 feet between people in public places. If an infected person is coughing or sneezing, the cough droplets may be transmitted through the nose or mouth. Social distancing is crucial in public places. Avoid home visits with friends and families. Stay connected over phone calls, video calls, and social media like Facebook and Instagram.
Wear facemasks
Wear facemasks or a cloth covering on your nose and mouth when you are in a public place or if you are around too many people.
The mask protects you from being infected from the covid-19 virus as well as prevents you from spreading the virus to others. Do not wear the mask while you are jogging or running. You may feel shortness of breath. Avoid putting masks on children below 2 years. Small children wearing masks must not be unattended. There is a risk of choking if the child finds it difficult to remove the mask. Always remember to keep a distance of 6 feet irrespective of whether you are wearing the mask or not.
What type of mask should I use?
Do not use medical masks. Medical masks like surgical masks or N95 respirators are meant only for healthcare providers like doctors, nurses, healthcare workers, caregivers, people working in medical facilities, and for people at-risk like infected patients, elderly people over 60 years, and other people with health problems.
Non-medical fabric masks can be used in public places.
Cover your mouth while sneezing and coughing
Always cover your mouth with your elbow while you are sneezing or coughing especially if you are around your family members or in public places. If you are using a tissue to cover your mouth, dispose the tissue into a dustbin and cover the lid. Wash your hands afterward with soap and water or with an alcohol-based sanitizer.
Keep your house clean
Keep your house clean and tidy. Remove clutter and unwanted items that can accumulate dust. Use a disinfectant to clean countertops, kitchen surfaces, doorknobs, toilets and sinks. After cleaning, wash your hands.
Stay healthy and fit
To prevent yourself from covid-19, take good care of your immune system. Take a lot of fresh fruits, vegetables, and proteins in your diet. Avoid junk foods. Eat moderate amounts of salt and oil. Stay well hydrated. Drink water and plenty of fluids throughout the day. Reduce alcohol and caffeine intake.
Include plenty of antioxidants like turmeric and immunity boosters like ginger and lemon into your diet. Eat well-cooked food. Wash fruits and vegetables thoroughly with clean water before eating. Engage yourself in physical activities like jogging, swimming, and stretching. Take extra care of your health especially if you are suffering from other health problems such as diabetes, heart diseases, or other immunity disorders.
Seek medical care
If you are experiencing symptoms related to the coronavirus disease, like fever, chills, dry cough, muscle pains, or shortness of breath, seek medical care, or call emergency services. Monitor your temperature and your health. Avoid taking temperature immediately after exercise or taking medications for fever. You may get false results. Do not visit the doctor's chamber or the hospital without making a prior appointment. You may spread the covid-19 virus to other healthy people.
Safety tips at public places
The availability of public transport as well as the opening of offices, restaurants, and other public places makes it imperative to take extra steps to protect from the coronavirus disease. Here is what you can do:
Stay at home as much as possible, especially if you are suffering from any health problems like kidney disease or heart problems. Always wear a fabric mask. Maintain social distancing of at least 6 feet from one another in public places. Avoid mass gatherings, functions, and other large events. Carry a hand sanitizer in your purse or pocket and use it intermittently as and when required. Cover your mouth with your elbow when you are sneezing or coughing or use tissue paper. Throw the tissue paper into a dustbin and clean your hands with soap and water. If you are outside use a hand sanitizer.
Avoid going to parks, beaches, and swimming pools in public facilities. Check whether the facilities are following all safety measures. Maintain social distancing
If you are visiting religious places of worship, ensure that you avoid large gatherings and maintain the social distancing norms. Only use packaged drinking water and foods to avoid contamination
At restaurants, ensure all employees are following all the safety practices for their guests for instance wearing facemasks, maintaining social distancing, and adequate sanitizing. Ensure that the tables are set apart at least 6 feet away from each other and disinfect all the surfaces adequately. If you have ordered food at home, ask the delivery executive to leave the food at your doorstep or at the lobby for pickup
Shopping for groceries and other essentials is best done online rather than physically visiting the stores. If shopping at the stores is unavoidable, choose a time when the stores is less crowded, for instance during early mornings or late evenings. This way you can avoid close contact with people. If you are standing in a queue, ensure you are at least 6 feet away from the other person
Limit your visits to salons as there are high chances of contact while getting haircuts and other services. Make advance appointments to avoid waiting in the salons. Shampoo and wash your hair at home and avoid blow-drying as this may spread the virus. Always wear a face cover or a mask while you are visiting the salons.
Companies should also get their offices ready for employees during this pandemic. Company managers should explain the importance of social distancing and personal hygiene to their employees. Keep hand sanitizers at workstations, as well as at entry and exit points at the office. Take regular temperature of employees and make it mandatory to wear masks and wash hands at regular intervals. Some companies are also promoting work-from-home for the safety of their employees. Companies should arrange buses and car-pool facility for the pickup and drop of the employees. For office-goers, it is best to avoid public transport during this time.
Safety tips for caregivers of COVID-19 patients at home
If you are a caregiver taking care of a COVID-19 infected family member at home, here are a few precautions you must take: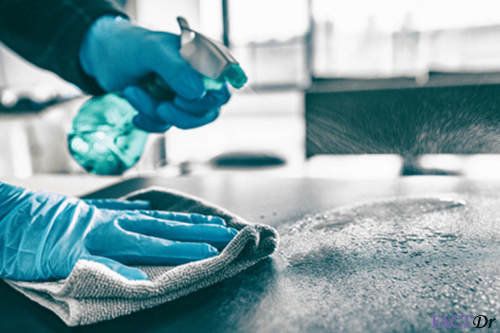 Isolate the sick person to a separate room with an attached bathroom. If you have to share space, ensure that there is enough ventilation and air circulation in the room. Open all the windows of your room and let in fresh air into the room
Limit your contact with the patient infected with the covid-19 virus. Always wear a mask and keep a minimum of 6 feet distance from the patient. The infected person should always wear a mask especially if the patient is in close proximity to other members of the family
The family members of the sick person must also go to quarantine during the isolation period
Inform your relatives and neighbors to avoid visiting your house during the isolation period
Use separate utensils, bed sheets, and clothes for the infected person
Always wear disposable gloves while handling soiled clothes or washing utensils. Throw the gloves into the dustbin after use. Wash your hands thoroughly with soap and water
You must wash your hands at regular intervals. Do not touch your face, nose, eyes, or mouth before washing your hands
Clean your house with a disinfectant especially high-touch areas like doorknobs, toilets, tabletops, desks, kitchen sinks, light switches, and electronics
Use separate lined trashcans for the infected person. Use disposable garbage bags to dispose of the contaminated items
Closely monitor the health of the sick person as well as yours. If you observe any symptoms, call the doctor immediately and take their advice
Subscribe to free FactDr newsletters.
REVAMP YOUR
LIFE
HEALTH
WELLNESS
If you're enjoying our website, we promise you'll absolutely love our new posts. Be the first one to get a copy!
Get factually correct, actionable tips delivered straight to your inbox once a week.
We hate spam too. We will never share your email address with anyone. If you change your mind later, you can unsubscribe with just one click

By clicking Subscribe, I agree to the FactDr Terms & Conditions & Privacy Policy and understand that I may opt out of FactDr subscriptions at any time.
Help
Others
Be
Fit