---
Last Updated December 20th, 2021
Therapeutic indications
Becosules is used as a multivitamin that is indicated for various conditions that include acne, hair loss, anemia muscle cramps, and diarrhea. It is also used to treat Vitamin B12 deficiency and high cholesterol and triglyceride in the blood. The drug is also used to treat conditions where for dietary deficiencies where one is unable to obtain sufficient food intakes. Specific conditions for which this drug is prescribed include the following:
Oral ulcers
Hepatobiliary tract disease
Glossitis
Stomatitis
Cheilosis
Alopecia
Acne
Conditions that cause poor dietary intakes such as alcoholism, diabetes, obesity and aged people
Metabolic conditions that cause an increase in dietary requirements such as febrile illness, fever, chronic infections, post-surgery, burns, and fractures
Poor nutrient absorption and assimilation due to diarrhea, malnutrition or rapid weight loss.
Anemia that can be caused by Vitamin B12 deficiency, nutrition deficiency, pregnancy or infancy or lack of adequate folic acid in the body
General deficiency of several vitamins such as B12, B3, folate, biotin, A or C.
Heart diseases
Hypophosphatemia and hypocalcemia
Mental disorders
Osteoarthritis
Arthritis
Alzheimer's
Weak nails
Skin and hair growth
Migraines
High cholesterol
Alopecia
Muscle cramps
Scurvy
Seborrheic dermatitis
Folate deficiency
Uremic osteodystrophy
Congenital
Loss of hair
Greying of hair
Supplements
ADHD
Salicyclate toxicity
Clogging of arteries
Catarrhal respiratory disorders
Congenital hypothyroidism
Streptomycin neurotoxicity
Mental disorders or cognitive disorders
Seborrheic dermatitis
CVD
Diabetes
Hypophosphatemia
Corns
There are possibly other indications for which this drug used and which may not be included in the list above. It is also used for:
Promotion of growth of red blood cells
Improvement of the health of cells
Improves the health of the brain
The increase in energy levels
Promotion of eyesight
Promotion of healthy appetite
Improvement of good digestion
Proper maintenance of cholesterol production in the body
Improvement of nerve functions
Promotion of cardiovascular health
Boosting of immunity
Repairing body tissues (Vitamin C is used for this purpose).
Becosules is prescribed for a variety of symptoms. It is crucial to identify the underlying cause to get that treated. There are various blood tests and scans available to check your health paramaters. These will help you make an informed decision about your course of treatment. This will also let your doctor advise you what other medications need to be taken along with Becosules.
Some tests that are recommended to be carried out are CBC blood test to check your complete blood count panel, vitamin B12 blood test to check if you have vitamin B12 deficiency, lipid profile blood test to check your cholesterol levels, TSH blood test to check your levels of TSH (thyroid-stimulating hormone), and bone density test to check for osteoarthritis.
Do I need a prescription?
Becosules is prescribed for different conditions for different patients. Only a doctor can examine and prescribe the right dosage for diagnosed condition and depending on the medical history of a patient. Do not take over the counter without a medical prescription.
Chemical composition
The drug has the following active ingredients:
Other active ingredients include the Ascorbic acid, Riboflavin, Thiamine and Vitamin 12.
Mechanism of Action (MOA)
The drug is designed to trigger megaloblastic to produce megaloblastic bone marrow which in turn treats vitamin B12 deficiency in the body, lowers blood cholesterol level in the body as well as triglyceride levels, which is results from prevention of synthesis of low-density proteins.
This action of production of normoblastic marrow also results in the prevention of damage of cells from peroxidation due to high levels glutathione. It also modifies electrical nerve activity, which reduced the activity of heart muscles and provision of ascorbic acid in the body which are used in doing a reversible reaction of oxidizing dehydroascorbic acid.
Becosules is also used in reducing production of prostaglandin that is useful in the prevention of blood thinning, hence preventing clotting of blood in the body; the relaxation action of nerve signals in the brain is also one of the actions of this drug in the body. It is taken to treat and prevent a lack of sufficient biotin in the body.
Becosules is used to restore metabolic reaction in the body to normal. Different vitamins in the drug act for different functions. The drug helps the body to metabolize carbohydrates and alcohol better. Folic acid is used to help synthesize nucleoprotein synthesis and normal erythropoiesis.
Vitamin C, a constituent in Becosules is used for oxidation and reduction reactions in the body and in the synthesis of lipids and for better functioning of carbohydrates and blood vessels.
Contraindications
These are the unintended effects of the drug. They may occur as a reaction after taking Becosules. Adequate attention is needed.
Allergic reactions
Intolerance to drugs
Heightened mast cells
Leber's disease
Hypersensitivity or allergic reactions
Side effects
Less serious and common side effects include:
Headaches
Mild and momentary diarrhea
Cramps
Itching
Hives
Bitter or bad tastes in the mouth
Sore throat
Unexplained tiredness
Eczema
Disturbed sleep
Interrupted sleeping patterns
Dizziness
Weakening of muscles
Entire body swelling
Nausea
Gas
Irritability
Confusion
Seizures
Temporary faintness
Dryness of mouth
Constipation
Leg pains
Hives
Lungs may swell
Chest pains bloating
Allergic reactions
Bloating
Serious side effects that are less common include:
These side effects are rare but can be deadly. It is recommended to seek medical assistance as soon as possible and more especially if these symptoms persist.
Congenital heart problems
Frequent feeling of need for urination
Dry hair
Dizziness
Skin rash
Allergic reactions
Diarrhea
Excessive thirst
Change of urine color
Cephalgia
Poor focus
Stomach distention
Anorexia
Ulcers
Overactivity
Nausea
Flatulence
Poor concentration
Fretfulness
Swelling of lips and tongue
Breathing difficulties
Liver toxicity
Face stiffness
Unexplained increase in weight
Impaired judgment
Swelling
Heartburn
Dyspnea
Heart failure
Pruritus
Cyanosis
Pain or swelling at the site of injection
Fibrosis, which may cause blood vessels to block
Restlessness
Numbness due to dysfunction of nerves
Declined vitamin B12 in serum
Reduced or failure of bile secretion in small intestines
Urge to vomit
Drug Interactions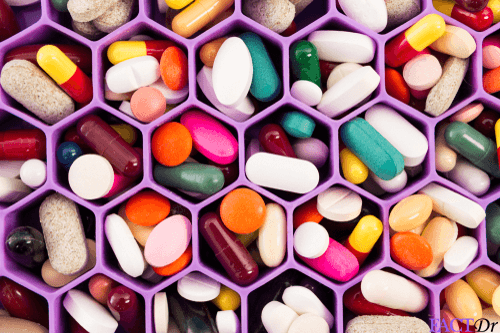 These are food, conditions or drug substances that may react or interfere with expected or normal therapeutic effects of the drug in the body. These include the following:
Alcohol
Anti-diabetic drugs
Aminophylline
Allopurinol
Arsenic trioxide
Abacavir
Allopurinol
Atropine
Barbiturates
Bishydroxycoumarin
Atorvastatin
Bishydroxycoumarin
Carbamazepine
Chloramphenicol
Chlorothiazide
Chlorpromazine
Chlorthalidone
Cholestyramine
Clonidine
Clozapine
Desogestrel
Digoxin
Diphenylhydantoin
Dolutegravir
Doxorubicin
Erythromycin
Ethinyl Estradiol
Fluvoxamine
Folic acid
Furosemide
Gabapentin
Glycopyrrolate
Haloperidol
Hydrochlorothiazide
Hydrocortisone
Imipramine
Iron Salts
Isoniazid
Lamivudine
Levodopa
Levonorgestrel
Levothyroxine
Lisinopril
Mestranol
Methotrexate
Methylamphetamine
Mexiletine
Nafcillin
Nitrofurantoin
Olanzapine
Oral contraceptives
Paracetamol
Penicillamine
Pentazocine
Phenobarbital
Phenothiazine
Phenytoin
Primidone
Probenecid
Propranolol
Pyrimethamine
Raw egg white
Rutin Vitamin P
Scopolamine
Sodium Bicarbonate
Sodium Succinate
Sulfinpyrazone
Sulphadiazine
Tacrine
Tetracycline
Tetracyclines
Theophylline
Tricyclic antidepressants
Valproic acid
Zileuton
Zolmitriptan
What to Do If You Skip a Dose
Ensure to take the usual dose as advised by an informed doctor aware of your condition. If you forget, take the missed dose as soon as you remember. However, you should avoid taking this dose if it about time to your next dose. Never take an additional dose. Frequent misses might make the drug ineffective.
Dosage
Typical dosage is one tablet or capsule daily, taken with or after food but this varies with patient's condition. Any change of this dosage can only be done after consulting with a doctor depending on the assessed condition of a patient.
There is no single mass of the capsule or tablet. They vary and have been packed in the following categories:
Becosule 100mcg
Becosule 15mcg
Becosule 1.5mg
Becosule 3mg
Becosule 10mg
Becosule50mg
Becosule 100 mg
Becosule 150mg
As indicated in the variations above, there is no single dosage of the drug; they are prescribed depending on the condition of a patient. These forms are prescribed for different conditions.
Precautions
Pregnant or breastfeeding women should consult a doctor before taking this drug unless advised so by a doctor. Folic acid and Thiamine (vitamin B12) can be taken but consult a doctor). Do not take these before seeking medical advice: niacinamide, riboflavin, ascorbic acid, pyridoxine, biotin, and calcium pantothenate.
You should inform if you are taking any vitamin or herbal supplements that are bought over the counter
You should inform a doctor if you are having other medical problems that may interfere with the medication or causing other known side effects
Take the dosage as per the instructions of the doctor. Don't overdose, under-dose or change time allocated by the doctor
Do not take Vitamin 12 through Becosules capsules for pernicious anemia or any other megaloblastic anemias where vitamin B12 is deficient
Take caution if you are undergoing anticoagulant therapy
Do not take alcohol while undergoing this therapy. It is especially critical if you are having alcoholic cirrhosis. Alcohol also causes increases in drowsiness side effects.
When taking niacin, avoid taking alcohol
Inform your doctor if you are breastfeeding
Inform your doctor if you have diabetes
Do not take this medicine on an empty stomach
Becosules can cause false lab tests. Known cases are of glucose tests
Take care to not expose drugs to excessive sunlight
Do not take this drug with steroids
Inform your doctor immediately if you have numbness or tingling sensation
When administering via IV, ensure this process is not hurried.
You may operate machinery and drive after taking Becosules but you should stop immediately if you experience any symptoms of dizziness. headaches or drowsiness
Consult a doctor if this medicine can be tapered or if they can be stopped immediately. This depends on side effects, interactions and nature of the patient's condition.
Ensure to take foods to nourish and replenish food with essential vitamins. Vitamins alone are not enough
Do not take more than the recommended dose for this drug. Overdose for any reason of this drug and any other iron-containing products can fatally poison children under 6. A noted or suspected case should be reported to a doctor immediately
Ensure to take the drug orally and not in any other way as instructed by a doctor
Check the expiry date of the drug before taking this drug. Do not take expired drugs
Becosules are water soluble and in case of an overdose, they do not cause excessive effect as they can be excreted by kidneys. However, in the case of kidney disease, this excretion can fail and can accumulate in the kidney.
Aged or elderly people are not advised to take this medicine without first consulting a doctor
People with kidney problems should inform a doctor first
If you are allergic to cobalt, do not take this drug without consulting with a doctor first
There are other precautions that are taken due to individual constituents of Becosules. Each of them may have individual precautions are included below:
For Ascorbic acid:
Inform a doctor if you experience kidney stones
Diabetics are also advised to seek medical advice before taking the drug. They may need to take a urine test for sugar before taking the drug
Breastfeeding is not recommended before seeking medical advice
For Vitamin B9 or folic acid, do not use if you are diagnosed with megaloblastic, pernicious or ablastic anemia.
Substitutes of the Drug
Several products of the same strength and form are manufactured by different companies. Some of these include the following:
Optisulin Cap
Becosules Syrup 60ml
Sioneouron Forte Tab
Becosules Syrup 120ml
Becosules Syrup 120ml
Nutrolin B Ped Tabs 10s
Cobadex Forte Cap 15s
Cobadex Forte Cap 15s
Cadbe Drops 15ml
Riconia Drops
Cecure Cap
Vitamin Z Tab 10s
Visyneral Oral Drop 15ml
There are many other substitute drugs for Becosules that are not listed above. Availability depends on the location of the manufacturer.
Facts and recommendations
Statistics from people that bought this drug from one source used it for various conditions as indicated below:
Acne 23%, Hair loss 15%, Vitamin B12 Deficiency 10%, Hair fall 10%. The rest had less than 10% and they included Supplements 6%, Gray hair 5% Muscle cramps 5%, Vitamin deficiency, Alopecia, Diarrhea, and high cholesterol all had a rating of 4%.
For various conditions, users that rated it as effective were 76% while 24% noted otherwise.
Most people used it after meals and the least took it for before food.
The medicine can be given to children although medical supervision is recommended
There are no reports on the effects of pregnant or breastfeeding mothers although it is safer to seek doctor's opinion
The drug is available over the counter (OTC) but as indicated, a doctor's opinion for a diagnosed condition is preferred.
Subscribe to free FactDr newsletters.
REVAMP YOUR
LIFE
HEALTH
WELLNESS
If you're enjoying our website, we promise you'll absolutely love our new posts. Be the first one to get a copy!
Get factually correct, actionable tips delivered straight to your inbox once a week.
We hate spam too. We will never share your email address with anyone. If you change your mind later, you can unsubscribe with just one click

By clicking Subscribe, I agree to the FactDr Terms & Conditions & Privacy Policy and understand that I may opt out of FactDr subscriptions at any time.
Help
Others
Be
Fit