---
Last Updated December 20th, 2021
Panera Bread: From where did this basket of bread appear?
One of the most iconic bakery-cafe restaurants in the USA, Panera Bread started from the humble suburbs of St. Louis, Missouri, before being absorbed by Au Bon Pain in 1993 and advancing rapidly into the billion-dollar club.
With more than 2000 outlets sprawling across the nation, this bakery-cum-cafe giant is the go-to name if you are craving for gourmet bread bowls, wholesome salads, and hearty soups amidst a busy schedule.
For those who don't know, Panera is the Spanish for bread bowl or bread basket and this can be seen signified in its logo.
The first glance at any Panera Bread outlet will tell you why a majority of Americans associate it with healthy and tasty eating that they hold close to heart. The rustic yet oddly homey ambiance infused with the delectable aroma of freshly baked bread will launch you into a culinary experience you would refuse to let go of.
Panera Bread: What is the claim to its fame?
And it's not just the delightful spread of dishes and the soft and comforting aura of the interiors that have made Americans go ga-ga over Panera Bread.
Panera Bread has been a pioneer in propagating the culture of calorie-counting that forced the entire nation to read the nutritional contents before putting any morsel of food in their mouths.
This brand shall also be fondly remembered for starting a series of "Panera Cares Community Cafes", strategically located in low-income areas where people can pay for food whatever is within their limits.
These centers serve around 1 million people annually and are self-sustained in nature. This means that Panera Bread is able to cover the operational costs successfully in spite of not adding a price tag to every item on the menu.
In 2005, Panera Bread took a bold step – a step very few food chain giants have had the guts to take. It completely eliminated all forms of artificial trans fat from its patent list of ingredients.  And last year, it went ahead and removed every single artificial ingredient from its kitchen!
These days one can see a majority of fast food joints being at the center stage of stirring up controversies such as widespread outbreaks of food-borne diseases.
But not Panera Bread.
In an attempt to serve food that not only exceeds in taste and nutritional value but is also safeguarded against antibiotic-resistant bacteria, Panera Bread became the first food chain giant to cater 'clean' meat and poultry.
A majority of the poultry and meat ingredients used by Panera Bread are antibiotic-free, grass-fed, and cage-free, making it a not only a delicious but health-conscious bet.
Each year, the 6000 bakers employed by Panera Bread are able to bake a whopping 250 million bagels and 50 million baguettes!
And the best part is each one of these is freshly prepared.
The loaves of bread which remain unsold at the end of the day are not reused the next day or thrown away in the dumpsters.  Thanks to Panera Bread's yet another exemplary initiative, Day- End Dough Nation Program, any remaining bakery item is donated to relief organizations.
At Panera Bread, there is a little something for everybody.
Be it the hidden menus items for those who want to order specific customized and off-menu items. Or be it an unbelievable discount of up to 65% reserved for its loyal employees.
How many times have you been handed the wrong order of food at a restaurant after waiting in line for what seemed like an eternity? And then only to be hassled further by a rude staff that would make matters worse?
Well, at Panera Bread you are guaranteed freedom from both such vexing situations.
Firstly, if the food served to you is not what you ordered, you might get a freebie of your choice from their renowned bakery section.
And secondly, with efficient operational models such as Pick-Me-Up at work, you can place your order in advance and eliminate the need of having to wait in a line at all.
From nothing but soothing classical music played in the background and exclusive array of art from the walls which is available for customers to buy, Panera Bread spells an alluring charm on each person that walks in through their doors.
In addition to these, there are a million other reasons for the all-encompassing loyal customer base.
Let us delve a little bit deeper into analyzing which are the stand-out dishes on the menu and what you should order if you are looking for the healthiest choices.
Your guide to Panera Bread's healthy options
Chances are that you are currently struggling with your weight (or at least know someone who is), trying to cut back on extra carbs and sugar, or maybe just going the health-cautious way.
Whatever be the reason, it couldn't hurt to try healthier alternatives to the usual fast food banquet of grease-slathered meats and oil-soaked fries.
At Panera Bread, you have the option of choosing fiber-filled and nutrient-infused meals which are equally delectable for your taste buds.
There have been in-depth research and analysis conducted in identifying which were the healthiest picks from the menu and these are the star entrees that won the hearts of customers and nutritionists alike.
Avocado, egg white, and spinach sandwich
It's right there in the name.
Replete with the healthy fats of avocados which meets the light yet sturdy egg white proteins, coupled with the green goodness of spinach – this sandwich has everything that makes your breakfast exceedingly nutritious yet tasty.
When opting for this sandwich, make sure that you opt for the whole grains bread options adding more fiber to the most important meal of the day.
This humble sandwich comprises of 21 grams of proteins and 7 grams of fibers (thank you spinach and whole grains) ensures that you have a healthy and consistent source of energy till lunch time.
Proteins, healthy fats, and fiber – these are the three key ingredients that not only increase your satiety (lesser hunger pangs, more fullness!) but also reduce sudden glucose spikes in the blood that is inadvertently linked to the rise of diabetes.
Thus with this simple combination of superfoods, carefully chosen to boost your health and tingle your taste buds, you end up getting unmatched health benefits seldom seen in any popular food chain.
Steak and arugula sandwich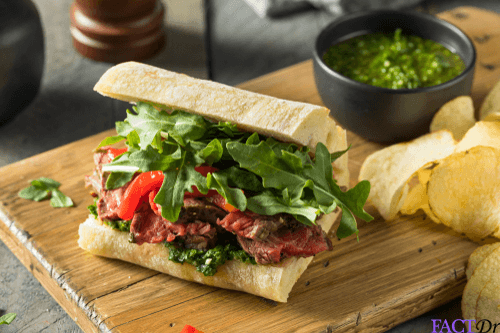 Every meat lover in this world must have wished that steak gets declared as a health food soon.
Though, the debate over the health index of meat and other animal products are often never devoid of controversies, with this sandwich of Panera Bread you can think of striking a balance between eating meats and being healthy.
Let us take a closer look at the nutritional content of this sandwich and understand why it a popular choice among nutritionists.
Each serving of this sandwich gives your body not more than 500 calories. It contains 19 grams of fats, 870 mg of sodium, 4 grams of fiber, and 25 grams of proteins.
But what else does this wholesome sandwich have in store for us?
Well, for starters, the arugula in the sandwich is an excellent source of vitamins, minerals, and antioxidants – all the things that keep your disease-free and away from the degenerate effects of aging.
It is a natural detoxifier, metabolism- booster, and strong anti-carcinogenic agent. Additionally, it is great for prenatal care since its high in folate.
Now coming down to the steak.
While red meat has been demonized enough by popular media that a huge chunk of health-conscious people opts for going the vegan path, unprocessed and hormone-free meat provides a plethora of health benefits.
It a rich source of iron, proteins, and zinc – things that help you maintain a healthy muscle mass and excellent bone strength.  It also protects your brain and heart in addition to regulating insulin.
And with Panera Bread's recent initiative of cutting out all processed meats from its pantry, with the steak and arugula sandwich, you get the nutritional goodness of both – the meats and the greens.
Steel cut oatmeal with almonds, quinoa, and honey
With oatmeal, you never go wrong.
Or can you?
Are some forms of oatmeal healthier than the others?
And what is the entire hoopla over quinoa?
Steel cut oatmeal is the healthiest form of oatmeal that you can get. It retains most of its original grain-form nutrients and is named so because it is cut using steel knives (similar to rice).
It takes a much longer time to cook than its usual instant or easy to cook versions (yes, they are relatively unhealthy owing to loads of preservative and high sugar content), it ranks much higher in total nutritional content.
Coming down to the next important wonder ingredient, quinoa.
This humble grain, native to the Andes, is power packed with amino acids (the building blocks of life), has high fiber content (just like the oatmeal), and is a powerful antioxidant.
With almond, you get the healthy fats, fiber, and vitamin E and with honey, the better alternative to sugar for adding the sweetness in your cereal bowl.
When you combine these exceedingly nutritional components together in your daily breakfast routine, you end up getting a bowl full of fibers, protein, and anti-oxidants.
Thus with this item in the Panera Bread menu, you can be assured of building a healthy gut, keeping free-radical damage way, and feeling full for a longer time.
Lentil quinoa broth bowl with chicken
Another healthy option for the meat and chicken lovers out there is this ingenious bowl of healthy goodness loaded with nutritive gifts for your body.
Starting with the antibiotic-free chicken, Panera Bread's this particular broth makes sure that you get the right amount of animal proteins without having to expose your body to the dangers of drug-resistant superbugs.
The potent combination of lentils and drug-free chicken gives you a boost of 33 grams of proteins, which is toxin free.
The wholesome blend of brown rice, lentils, and quinoa adds 10 grams of dietary fiber to your daily food intake.
But these are not the only ingredients of this hearty soup.
This soup also makes use of kale and spinach – two largely loved green leafy vegetables. Kale is considered to be one of the most nutrient-dense foods in the world, loaded with antioxidants and cholesterol-lowering properties.
Spinach, on the other hand, contains a host of nutrients including vitamin B6, B9, E,  C & K, folic acid, iron, calcium and many more.
So next time you are in Panera, why not give this wholesome and hearty broth a try?
   Half Greek Salad with Black Bean Soup
When Panera Bread tells "You Pick Two", it is easy to get swayed and order the New England Clam Chowder with a side of The Italian on a Hoagie Roll (one will send your blood pressure shooting upwards with its high sodium content while the other houses will just load up on your carbs and calories intake).
You chose Panera Bread for the sole reason that is simple, delicious, and healthy.
So instead of having double the amount of sodium, carbs, and calories in one meal of Panera Bread, why not order a healthy salad and soup?
The Greek Salad is as healthy and nutritious as it sounds. Full of freshly picked vegetables it has zero trans fats, negligible saturated fats, low sodium, and sugar content, and is only 200 calories.
The Black bean soup, in its low fat and vegetarian form, is one of the few items in the menu that can boast of zero trans fats, saturated fats, and cholesterol.  It is just less than 90 calories with trace amounts of sugar but high fiber content.
The primary ingredient – black bean, is rich in phytochemicals and is a healthy form of protein since it is derived from plants. This, just like quinoa and oatmeal,  increases satiety and, in the long run, keeps chronic illnesses and bodily inflammations away.
Panera Bread: The secret calories and junk lurking in the menu
While the list of healthy eating options catered by Panera Bread is undoubtedly impressive and factually accurate, there still are a number of treats and picks that are generously laced with unhealthy fats, copious amounts of salt and immense calories.
Make sure that you remember these important pointers before placing an order at the Panera Bread next time:
There are many meal options such as "Sierra Turkey" on Asiago cheese focaccia and tomato and mozzarella on ciabatta bread which have surprisingly more number of calories than a McDonald's double cheeseburger!
Many of their salads might look fresh and green on the surface and have much lower calorie count, however, their sodium content might be much more than the daily required limit.
There are many items which look deceptively healthy but are in fact loaded with calories, carbs, and/or salts such as the Fuji Apple Chicken Salad, Chicken Noodle Soup, Green Goddess Cobb Salad and many more.
Not to mention the bagels, soufflés, pastries and sweets, and certain breakfast sandwiches are replete with sugar and artery-clogging fats.
In addition to these, the dips and extra cheese additions on top can add dollops of trans fats, saturated fats, and sodium to your daily breakfast and luncheon meals.
Subscribe to free FactDr newsletters.
REVAMP YOUR
LIFE
HEALTH
WELLNESS
If you're enjoying our website, we promise you'll absolutely love our new posts. Be the first one to get a copy!
Get factually correct, actionable tips delivered straight to your inbox once a week.
We hate spam too. We will never share your email address with anyone. If you change your mind later, you can unsubscribe with just one click

By clicking Subscribe, I agree to the FactDr Terms & Conditions & Privacy Policy and understand that I may opt out of FactDr subscriptions at any time.
Help
Others
Be
Fit