---
Last Updated December 20th, 2021
Therapeutic Indications
Racecadotril is a drug used in the treatment and management of acute diarrhea in children from the age of three months and above. For proper working, it should be taken with a lot of water or liquid. It is sometimes used as a complementary treatment. Racecadotril is used for management, control, and treatment of the following diseases, conditions, and symptoms:
Do I Need a Prescription?
Racecadotril can be bought from pharmacies and online drug stores. But a doctor's prescription is a must.
Dosage
The dosage for Racecadotril depends on age and weight. The recommended dosage for Racecadotril is:
Acute diarrhea
Adult: 100 mg three times a day for a day
Children 3 – 9 months: 10 mg three times a day
Children 9 – 30 months/2.5 years: 20 mg three times a day
Children 2.5 years – 9 years: 30 mg three times a day
Children over nine years: 60 mg three times a day
Chemical composition
The active ingredient in Racecadotril is Racecadotril. Racecadotril is packaged with different strengths; 10 mg, 30 mg, 50 mg, and 100 mg sachets. Racecadotril is also called acetorphan.
Mechanism of Action (MOA)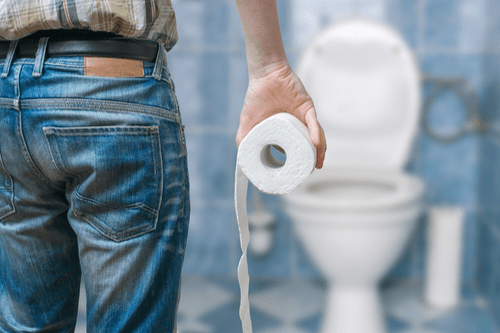 Racecadotril is an inhibitor of enkephalinase that acts peripherally. Once administered it is metabolized to thiorphan the active ingredient. The active ingredient inhibits the function of a peptidase found on the cell membrane of the epithelial tissues of the small intestines. The enzyme functions to digest exogenous peptides and degrades endogenous peptides that include enkephalins. When the enkephalins are not degraded, their availability is increased.
This results in reduced levels of cyclic adenosine monophosphate (cyclic AMP), reducing production of water and electrolytes in the lumen of the intestines. The stool becomes less watery and as thus relieving the symptoms or diarrhea. 
Facts on Racecadotril
 Racecadotril is well absorbed in the gastrointestinal tract once administered orally.
Food in the gastrointestinal tract does not interfere with the absorption of Racecadotril.
Racecadotril is transported in plasma bound to proteins, which is mainly albumin.
The effects of Racecadotril can be felt 1.5 to 2 hours once administered and can last up to 8 hours and with a metabolism half-life of 3 hours.
Enkephalinase inhibition after two hours from the administration is about 75%.
Racecadotril is mainly excreted via urine, about 81.4% and about 8% through feces.
Contraindications
The use of Racecadotril is not recommended in some medical conditions. If it is used, it can result in worsening of the condition or cause adverse reactions that might be fatal. Before using the drug, notify your doctor of all medical conditions you have or have had previously and thus that you have a family history of as they affect the prescription. The following conditions are contraindicated for the use of Racecadotril:
Allergic reactions: Do not take Racecadotril if you are allergic to the active ingredient or any other components of the drug.
Sugar intolerant: Apart from the active ingredient, Racecadotril contains sugars.
Renal dysfunction: If you have a kidney disease that is severe the medication should be used with caution.
Pregnancy or planning to be pregnant.: Racecadotril should be used with caution as the effects on the fetus are not conclusive.
Racecadotril should be used with caution as its effects on nursing are not known.
Under the age of three years
Blood in stool or pus or mucus that is green or yellow and have a fever. The diarrhea might be due to bacterial infection.
Hepatic impairment
Vomiting that is uncontrolled: The uptake of the medication from the gastrointestinal tract may be interfered with.
Racecadotril contains sugars that may interfere with blood sugar levels.
Chronic diarrhea or diarrhea due to antibiotics use.
Side effects
Medications cause side effects when used. Racecadotril causes side effects, but they do not occur in everyone. They depend on the dosage, duration of use and individual reaction to the medication. The side effects can be common and less serious and some go away on their own, while others can be rare and serious. Report to your doctor any side effects you experience to get medical advice on how to cope with the side effects. The following are the common side effects of Racecadotril:
Headache
Tonsillitis
Vomiting
Nausea
Constipation
Vertigo
Thirst
Rare side effects include:
Severe skin rashes like erythema multiforme
Flushing
Red, tender lumps under the skin on the calves
Rash popular( skin eruptions that are small, hard nodulated lesions)
Pruritus
Skin lesions that are itching
In case you suffer an allergic reaction to Racecadotril, discontinue using the medication and inform your doctor. Signs of an allergic reaction include difficulty breathing, skin rashes, difficulty swallowing, swelling of the lips, face, tongue, and throat.
If you accidentally take an overdose of Racecadotril, inform your doctor immediately or rush into the emergency center of the nearest hospital carrying the medication package with you from identification. An overdose can result in toxicity and adverse side effects of the medication.
Drug interaction
Drugs interact when you take two or more medications at the same time. Drug interactions can change the way your medications function making them less effective in treating your condition or can it can lead to the accumulation of the drugs that increase the chance of adverse reactions occurring in which some can be fatal.
Inform your doctor of all medications you are using or have been using including, both over the counter drugs and prescription drugs, any dietary supplements and herbal products. Also, inform your doctor of any medications you are to begin using while using Racecadotril.  The drugs and products interact with Racecadotril are ACE inhibitors that are used for lowering blood pressure such as Captopril, Lisinopril, Enalapril, Ramipril, Perindopril
What to Do If You Skip a Dose
If you skip a dose, take it as soon as you realize it. If it is close to the time for your next dose, you can skip it and take your next dose then continue with the normal drug schedule. However, do not double the dose as it could lead an overdose cause adverse reactions. Avoid missing doses frequently as they make your medication less effective. Set the alarm or have a family member remind you when it is time for your next dose.
Precautions
Some precautions need to be considered before and while using Racecadotril. The precautions include:
Allergic reactions: Do not take Racecadotril if you are all allergic to the active ingredient and any other components of the medication.
Pregnancy and planning to conceive: Racecadotril has very few studies of expecting women on its effects on the growing fetus, though animal studies have not shown any harm to the fetus, it should be used with caution in expecting women. Racecadotril does not affect fertility.
Lactating Mothers: Racecadotril should be used with caution as the effects on the nursing baby are not known.
Inform your doctor of all medications you are using and have been using and if you have to start using any medications to avoid drug interactions from occurring.
Inform your doctor of all medical conditions you have to avoid worsening of any conditions and severe adverse reactions.
Racecadotril should not be used for a period longer than seven days, if you have severe renal impairment, or if you have severe hepatic impairment.
While using Racecadotril and you get skin reactions that may be moderate or mild, you should discontinue the use of the medication.
In case you have uncontrolled vomiting, do not use Racecadotril as its effectiveness is reduced due to reduced absorption.
While using Racecadotril, the treatment should be continued until you pass two normal stools, if your symptoms do not improve after seven days of using the medication, consult your doctor as the diarrhea could be due to other reasons too.
For children and infants, Racecadotril granules could be mixed food or in water and given immediately after mixing.
While using Racecadotril, oral rehydration solutions (ORS) should also be administered to ensure the replacement of the water and electrolytes that are lost before the symptoms are relieved.
Racecadotril should be stored away from children and pets, at room temperature and should not be frozen.
Do not take Racecadotril that is expired. Expired medications have reduced effectiveness and may not treat your condition as expected. Always check the expiry date of the medication on the package during purchase.
Racecadotril can be taken with or without food.
To prevent infections of diarrhea from spreading to others, wash your hands after visiting the toilet with soap and running water, avoid sharing towels, clean your toilet regularly and do not prepare and serve food for others.
Alternative Brands and Manufacturing Companies of the Drug
Racecadotril is manufactured by different companies and marketed under various brand names depending on the country of origin. Racecadotril is packaged as a powder in sachets or as tablets or capsule of different strengths that include 10 mg, 30 mg, 50 mg, and 100 mg.  The leading brand's names of Racecadotril are:
Hidrasec – Lincoln Medical Limited
Tiorfan – Bio project Pharma Europe
Tiorfix  – Torrinomedica
Red oil – Dr. Reddy's Laboratories Ltd
Substitute drugs
Other brands of Racecadotril that work the same include:
Racotil 100 mg capsule – Cipla Ltd
Hydral 100 mg capsule – Alembic Ltd
Enuff 30 mg sachet – Hetero Drugs Ltd
Racigyl 100 mg capsule – Mankind Pharmaceuticals
Racedot 100 mg capsule – Macleods Pharmaceuticals Pvt Ltd
Race F 500 mg capsule – Bestochem Formulations(I) Ltd
Ad 100 mg capsule – Hetero Healthcare Ltd
Ralop 100 mg capsule – Salud care (I) Ltd
Lee Dott capsule – Apex Laboratories Ltd
Zomatril 30 mg powder – Fdc Ltd
Trotz 100 mg capsule – Wallace Pharmaceuticals Ltd
Racy 100 mg capsule – Abbott Healthcare Pvt Ltd
Zedott  10mg tablet DT – Torrent Pharmaceuticals Ltd
Enuff 100 mg capsule – Hetero Healthcare Ltd
Zedott 100 mg capsule – Torrent Pharmaceuticals Ltd
Cadotril 100 mg capsule – Ordain Healthcare Pvt Ltd
Normet R 100 mg capsule – Emcure Pharmaceuticals Ltd
Rasidot 100 mg capsule – Elder Pharmaceuticals Ltd
Leedott 100 mg capsule – Leeford Healthcare
Subscribe to free FactDr newsletters.
REVAMP YOUR
LIFE
HEALTH
WELLNESS
If you're enjoying our website, we promise you'll absolutely love our new posts. Be the first one to get a copy!
Get factually correct, actionable tips delivered straight to your inbox once a week.
We hate spam too. We will never share your email address with anyone. If you change your mind later, you can unsubscribe with just one click

By clicking Subscribe, I agree to the FactDr Terms & Conditions & Privacy Policy and understand that I may opt out of FactDr subscriptions at any time.
Help
Others
Be
Fit