---
Last Updated December 20th, 2021
Why controlling the spread of COVID-19 is important?
The COVID-19 disease has increased exponentially and currently, there is no particular vaccine or medication to fight the infection. In this scenario, our only goal is to limit our exposure to the virus and follow the guidelines for the prevention and control of the disease as laid down by the health department. Furthermore, the IPC (Infection Prevention and Control) strategies have stated certain rules for hospitals, healthcare workers, and medical practitioners to stop the spread of the infection. As responsible citizens, we must follow all these guidelines for our safety as well as for the safety of the people around us. This article will help us learn about the preventive measures and ways to control the COVID-19 disease.
Basic prevention and control measures
Here are a few ways how you can prevent and control the spread of the disease and keep yourself and your family safe:
Wash your hands regularly with soap and clean water or use an alcohol-based hand sanitizer with at least 60% alcohol. Washing hands regularly kills the germs and prevents it from spreading. Ensure that the hand sanitizers are kept away from the reach of small children for safety
Avoid touching your nose, mouth, eyes, nostrils, and other body parts without washing your hands. This can spread the virus
If you are coughing or sneezing, cover your mouth with your elbow or use a tissue paper. Throw the tissue paper into the dustbin immediately after use. Do not use your palm to cover your mouth while sneezing. It will transfer the virus to your hands and spread to other high-contact surfaces like doorknobs, tabletops, railings, light switches, etc.
Stay at home as much as possible. Maintain social distancing if you are going out
If you are going out in a crowded place, ensure that you are at least 6 feet away from the other person. Why so? When a person sneezes or coughs, you may inhale the infected liquid droplets and get the virus. This is why restricting outdoor visits is important to combat the virus. Apart from that, maintaining physical distance in crowded places can be difficult especially when all offices and public places are opening-up
Always wear a mask while going out. If you are allowing domestic help or other essential services like carpenters, plumbers, electricians, or grocery deliveries, ensure that they wear masks around you. You must also wear a mask to prevent the spread of the disease. Wear a fabric mask. Do not use medical masks. Medical masks are only for healthcare providers, frontline workers, patients infected with COVID-19, and medical practitioners
Keep yourself up-to-date with all the latest news about COVID-19. Follow a reliable source for information. Do not believe hoax messages and prohibit from spreading misinformation and fake news. Call your local authorities and seek their advice
Keep your home clean. Use a house disinfectant to clean the high-contact surfaces of your home like kitchen cabinets and sinks, doorknobs, tabletops, phones, keyboards, toilets, faucets, and other areas of contact
Do not touch children or pets without washing your hands
Take extra care of elderly family members and people with underlying diseases as they are more prone to the disease
Always monitor your health. If you are developing any symptoms of the disease like fever, chills, dry cough, or difficulty breathing, contact a medical practitioner or call emergency services
Prevention and control measures for handling sick patients at home
Caregivers taking care of sick patients at home are more susceptible to the disease and should take adequate measures to prevent infection. Isolate the infected person in a well-ventilated room with a separate bathroom.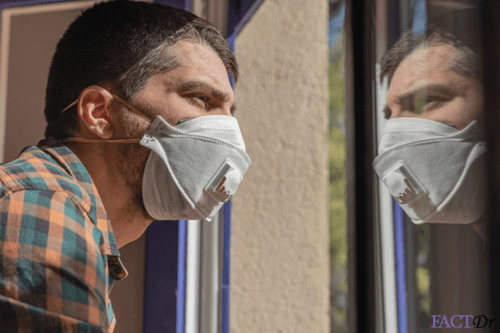 Always wear a mask around the patient and keep a distance of at least 6 feet
Use separate bed sheets, beddings, utensils for the sick patient. Always wear disposable gloves before washing the utensils or handling the soiled clothes of the patients. Throw the gloves into the dustbin
The infected person should always wear a mask, especially near other family members. Isolation of the patient is necessary for at least 14 days after the onset of the symptoms. Further, a wait for at least 3 days is needed after the isolation period is over
Family members of the patient must also isolate themselves for 14 days
If a person is asymptomatic, the isolation period is 10 days. Isolation for a few days more is necessary after the results come out negative
Caregivers must monitor their symptoms too. In the event of any symptoms developing, contact the medical practitioner immediately
Prevention and control measures for schools and educational institutions
Educational institutions must follow strict protocols in the event of opening up the premises for children studying in higher classes. Below is a list of basic principles that must be followed by students, parents, and school or college teachers, and staff.
Parents and teachers must explain the importance of self-hygiene to students at home and school. Share the latest facts of the disease and explain to them how they can prevent the spread of this contagious disease
Ensure that the school premises is carefully sanitized and has a proper waste management system
High-touch surfaces should be cleaned and sanitized daily and students should be encouraged to wash and clean hands at regular intervals
Hand sanitizers should be placed in toilets, classrooms, entry, and exit points
Students should always wear masks
The rooms should be properly ventilated for good circulation of air
Cancel school/college meetings, and sports events until further notice
Sick teachers, students, and other staff members must not come to the school or college
Social distancing should be maintained and classes should be taken in small groups
Schools and colleges must promote online classes and use e-learning platforms as much as possible to help students get education without risk of exposure to the virus
Prevention and control strategies for hospital staff and healthcare personnel
The IPC (Infection and Prevention Control) guidelines as dictated by the healthcare services aims to prevent transmission of the disease to providers and patients.
Rapid screening and isolation of COVID-19 positive patients in isolated rooms. If possible, patients should stay in well-ventilated single rooms to prevent the spread of the disease. If single rooms are not available, they can stay in shared rooms with at least a 1-meter distance between patients
Quick quarantine of infected healthcare personnel or other workers in healthcare facilities
Healthcare professionals such as doctors, and nurses, should receive appropriate guidance in the usage of the PPE (personal protective equipment) kits. The kits should be worn all the time while attending to infected patients
Maintain safe hygiene protocols. Adhere to safe hand and respiratory hygiene
Only a limited number of healthcare workers should handle COVID confirmed cases
While transporting patients, health workers must wear a PPE kit. Select an isolated transport route for infected patients
Dedicated medical equipment like x-ray machines, blood pressure cuffs, thermometers, must be used for COVID-19 patients
Always maintain a record to check who is entering the rooms of the infected patients
All the hospital premises especially the isolated areas should be regularly cleaned with disinfectants. Proper care should be taken to clean the community transmission areas in keeping with the guidelines of healthcare departments
Hospital staff should refrain from touching their nose, mouth, eyes, or face without properly washing their hands
Implement airborne precautions around the isolated wards. Adequate ventilation in the isolation wards is necessary for the proper circulation of air and removal of infectious aerosols and pollutants
The installation of HEPA (high-efficiency particulate air) filters can help to purify the air. However, their effectiveness depends on a number of factors such as unit capacity, size of the room, the number of patients in the room, etc.
PPE kits include wearing medical masks and gloves, goggles for eye protection, face shields, and long-sleeved gowns
Always ensure minimum entry of persons to the isolated wards
For specimen collection and transportation for testing, use leak-proof carry bags. Ensure that the specimen container is carefully labeled with the name of the patient and the purpose of testing to avoid confusion. Maintain all biosafety measures in the laboratory
While transporting a COVID patient for testing, ensure that the patient is wearing a medical mask
It is good to postpone elective surgeries in areas of contamination within the hospital. However, in case of an emergency, proper testing is necessary before the surgery. Any delay in proper testing can lead to serious complications and even patient death. If the surgical procedure is urgent and there is no time for testing, the patient must undergo a chest x-ray or a CT (computerized tomography) scan to detect the infection. The surgical room should be properly cleaned, disinfected before and after the surgery
General physicians should restrict outpatient visits. Telephonic consultation or videoconference can help to treat the patients. In case of an emergency, ensure that proper hygiene is maintained in the doctor's chamber. Patients should adhere to social distancing rules
Adequate measures should be in place for waste disposal within the hospital premises. Hospital staff must wear PPE kits while disposing of waste
Subscribe to free FactDr newsletters.
REVAMP YOUR
LIFE
HEALTH
WELLNESS
If you're enjoying our website, we promise you'll absolutely love our new posts. Be the first one to get a copy!
Get factually correct, actionable tips delivered straight to your inbox once a week.
We hate spam too. We will never share your email address with anyone. If you change your mind later, you can unsubscribe with just one click

By clicking Subscribe, I agree to the FactDr Terms & Conditions & Privacy Policy and understand that I may opt out of FactDr subscriptions at any time.
Help
Others
Be
Fit