---
Last Updated December 20th, 2021
Satisfy your Mexican food cravings with healthy chicken fajitas…
Simply stated, chicken fajitas are just chicken and vegetables folded into a tortilla. However, the best thing about chicken fajitas is that they are easy to cook and are filled with healthy goodness.
Is it a Texan or Mexican food?
Texans will certainly like to put a claim over fajita, but in reality, the credit goes to Mexican ranch workers. In the late 1930s, these ranch workers lived in West Texas, close to the Tex-Mex border.
As and when a steer got butchered, the ranch workers got the most undesirable parts to consume as a part payment for their wages.
Having to survive on that only, the workers quickly learned how to put a tough cut of steer or beef to good use.
Thus, we can call fajita a Tex-Mex delicacy, a perfect blend of Mexican ranchero and Texas cowboy foods.
In the U.S., grilled skirt steak is called fajitas while the Mexican counterpart is known as arracheras (which are marinated skirt steaks that are grilled over high heat).
Did you know? – August 18 is celebrated as Fajita day!
Coming back to the present day, we find that the fajita has steered a bit away from its original recipe.
Now, the term fajita describes anything and everything that is cooked and served by rolling up the contents in a soft flour tortilla.
Well regardless of the story of its origin, chicken fajitas do not cease to amaze its lovers with the wide variety of flavors it can offer.
Fancy cooking up a delicious fajita dinner for your family today?
Read these chicken fajita recipes – so easy that even kids can whip up one!
But before that let us take sneak peek into the calorie-count of each serving
Total calories =  390 calories
List of ingredients
Chili powder – 1 tablespoon
Cumin – 1 teaspoon
Paprika – 1 teaspoon
Cayenne pepper – 1/4 teaspoon
Garlic powder – 1/4 teaspoon
Salt – 1 teaspoon
Ground black pepper – 1 teaspoon
Olive oil – 3 tablespoons
Skinless, boneless chicken breast which has been sliced into strips – 1 ½ pound
Bell peppers – 2
Onion (thinly sliced) – 1
Small tortillas – 8
How to cook:
Preheat the oven to about 250 degrees.
Prepare fajita seasoning; in a small bowl whisk together cumin, chili powder, salt, cayenne pepper, paprika, garlic powder, and pepper. Set aside.
Take a frying pan or grill pan and heat olive oil (about 1 tablespoon) over medium-high heat.
Add chicken to frying pan (or the grill pan) and sprinkle about 3/4 of your fajita seasoning over it. Mix well and continue cooking for around 6-10 minutes or till the time chicken gets brown.
Take another pan, put it on medium heat, and add 2 tablespoons of olive oil in it. Add onion and peppers to it. Put the remaining fajita seasoning into it and stir well. Keep cooking till the time vegetables become soft (that would be just about 8-10 minutes) and stir occasionally.
While the meat and the vegetables are still cooking, wrap the small tortillas in a tin foil. Put them into the oven at such a temperature that they get warm.
Lastly, for assembling the fajitas, fill chicken, onions, and peppers into your warm tortillas. Finally, top them with your favorite garnishes.
What are few of the side dishes that go well with chicken fajitas?
Yellow Rice and Spicy Black Beans | Butternut Squash Soup with Chipotle Cream
Let us look at a few side dishes that you can have with chicken fajitas.
Side dish #1: Yellow rice and spicy black beans
Preparation time: 10 minutes, cooking time: 1 hour 30 minutes
List of ingredients
For spicy black beans
2 cups (which is about 1 pound) of dried black beans, which have been soaked overnight
Extra-virgin olive oil (3 tablespoons)
Diced onion (1/2 medium)
Chopped jalapeno pepper (1 piece)
Chopped garlic cloves (2 pieces)
Bay leaf (1 piece)
Kosher salt
Black pepper (freshly ground)
For yellow rice
Long grain rice (2 cups)
Water (4 cups)
Smashed garlic cloves (2 pieces)
Kosher salt (1 teaspoon)
Bay leaf (1 piece)
How to cook:
The spicy black beans
Take a pot and put some olive oil into it. Then add garlic, onion, bay leaf, and jalapeno pepper into it. Cook for around 5 minutes or till the time vegetables start softening.
Add beans to the pot and pour about 1 inch of water into it. When it begins to boil, lower the heat, cover with a lid and let it simmer for about one to one and a half hour so that beans become tender.
After beans become tender, discard the bay leaves and season the dish with pepper and salt.
The yellow rice
Take a heavy bottomed pot and put all the ingredients into it. Stir well and let it come to a boil while cooking on medium-high heat.
Reduce the heat and cook for around 15-20 minutes with the lid on so that water is absorbed by the rice.
After that take it off the heat and keep it covered for five minutes. Discard the bay leaf and garlic, mix well with a fork and then serve along with your chicken fajitas.
Side dish #2: Butternut squash soup with chipotle cream
Preparation time: 15 minutes, cooking time: 1 hour 30 minutes
List of ingredients
For butternut squash soup
Olive oil (3 tablespoons)
Butternut squash (1, medium-sized) which has been halved lengthwise and the seeds have been discarded
Grounded black pepper and salt
Chopped onion (1, medium-sized)
Chopped celery (2 stalks)
Chopped carrots (2 pieces)
Minced garlic cloves (2 pieces)
Chicken broth (6 cups)
Canned chipotle chiles (2 teaspoons) in adobo (minced)
For chipotle cream
Canned chipotle chiles (1 teaspoon) in adobo (minced)
Sour cream (1/2 cup)
Grounded black pepper and salt
How to cook:
Preheat your oven to about 400O
Grease sliced surface of butternut squash with one tablespoon of olive oil and season with pepper and salt according to taste.
Arrange the sliced butternut squash on a baking sheet and roast them for 45 minutes or until they are tender. After that remove from oven and let them cool.
Take a heavy pot and put it on medium-high heat. Add olive oil to it, as well as the carrots, celery, and the onion. Sauté for around 10 minutes so that they become tender.
Add garlic to it and again sauté for about two minutes.
Scoop out butternut squash flesh, add it to the pot and stir well.
Next, add chicken broth (about 4 cups) and make it come to a boil.
After that, cover the pot using a lid, lower the heat and let the vegetable simmer for around 30 minutes.
Next, you will have to turn off the heat, take the immersion blender and puree the soup until the time it becomes very smooth. If required, add some more stock for reaching the required consistency.
Mix in two teaspoons of chipotle into this soup and do a seasoning with pepper and salt as per your taste.
Prepare the cream:
Take a small bowl and mix sour cream and 1 teaspoon of chipotle to it.
Season this chipotle cream with pepper and salt.
Finally, pour the soup into bowls and top each of the soup bowls with a spoonful of chipotle cream before serving the soup with your chicken fajitas.
How to make the chicken fajitas even healthier?
Chicken: Don't fry the chicken, instead bake or grill it.
Tortillas: Use whole wheat tortillas instead of flour tortillas to accomplish a healthy substitution. The good thing about whole wheat tortillas is that they have less number of calories.
It is also a known fact that food made using whole grains can help in reducing the risk of diabetes and heart diseases. Whole grains contain dietary fiber that helps in improving blood cholesterol levels.
Such improvement in blood cholesterol levels, in turn, helps in lowering chances of heart diseases and type 2 diabetes.
Green peppers and salsa: Moreover, green peppers provide an ample amount of vitamin C to meet your daily requirement. Additionally, try to add a lot of vegetables to your fajitas and top them with salsa rather than sour cream.
Half-cup of salsa can be made with chopped raw tomatoes, chili peppers, and onions. This counts as equivalent to one serving of vegetables.
Also, it is a low-calorie alternative to sour cream which contains about 193 calories (in 100 grams). Salsa contains roughly about 40 calories (in 100 grams).
How to make it tastier?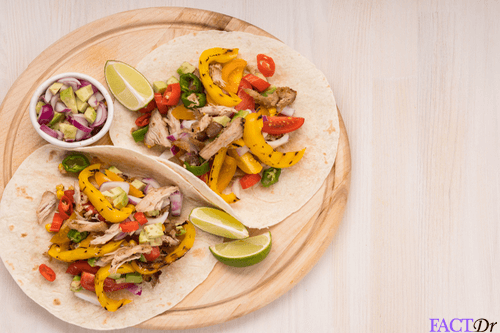 Although cooking chicken along with onions and peppers tastes good, you can make it even better through marination.
The secret here lies in the use of lime juice for marination.
The benefit of using lime for marination is that it perfectly complements flavors of veggies and the meat.
However, you need to marinate it for 1-3 hours and not more than that.
Another thing you will have to keep note of is that onions and peppers should be cooked for a short time.
This ensures that the natural sugars in them quickly caramelize and at the same time keep the onions and peppers remain crisp.
A Final Note
Chicken fajitas open a world of mouth-watering recipes which are healthy too.
So why not make some right now?
Subscribe to free FactDr newsletters.
REVAMP YOUR
LIFE
HEALTH
WELLNESS
If you're enjoying our website, we promise you'll absolutely love our new posts. Be the first one to get a copy!
Get factually correct, actionable tips delivered straight to your inbox once a week.
We hate spam too. We will never share your email address with anyone. If you change your mind later, you can unsubscribe with just one click

By clicking Subscribe, I agree to the FactDr Terms & Conditions & Privacy Policy and understand that I may opt out of FactDr subscriptions at any time.
Help
Others
Be
Fit