---
Introduction
Appendicitis is a medical condition in which your appendix gets inflamed. The appendix is a pouch that is found protruding from the colon and is usually finger shaped. The appendix is located in the lower right side of the abdomen. A bacterial, viral or parasitic infection may cause blockage on the inside of your appendix and cause the inflammation. Such an infection can also trigger the production of pus. An infected appendix can get very painful. It is important that you get treated for your appendicitis to avoid it from rupturing. In case the appendix is left untreated, there is a risk of an abscess developing. Alternatively, it can lead to sepsis (systemic infection).
Some of the signs and symptoms of appendicitis include loss of appetite, fever, and nausea. You may also develop chill like symptoms and experience vomiting. Appendicitis is treated using antibiotics. If this line of treatment fails, your doctor will most likely recommend surgery to remove the diseased appendix.
Types of appendicitis
Appendicitis can be categorized into two main types, based on their onset and complications involved.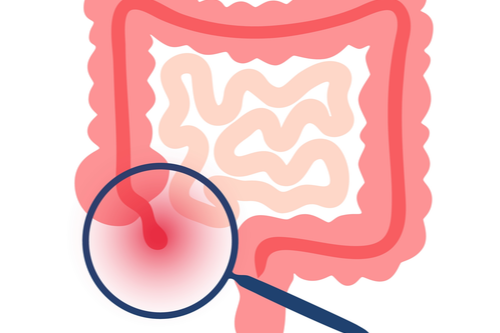 Acute appendicitis: This is by far the most common type of appendicitis, characterized by sudden onset. It also causes severe inflammation of the appendix. The pain due to an acute appendicitis usually emanates in the abdomen. The pain will often escalate quickly and become worse in a matter of hours.Acute appendicitis manifests symptoms such as chills and fever. There may be vomiting and a swollen abdomen as well. Coughing, any movement and deep breaths tend to exacerbate the pain.
Chronic appendicitis: This type of appendicitis is less common. The symptoms will appear and then disappear on their own and as such, it is hard to diagnose chronic appendicitis. Chronic appendicitis mainly occurs when your appendix has an obstruction. Alternatively, prolonged inflammation of the appendix will also trigger chronic appendicitis. It is advisable to obtain the correct diagnosis since certain forms of chronic appendicitis can be life-threatening.
Treatment options
Home remedies
Several home remedies have been proposed that are believed to manage appendicitis. They include:
Ginger: This assists in curing symptoms like vomiting and nausea. It also minimizes inflammation and pain on the appendicitis. For best results, it is advisable to drink freshly prepared ginger ta 2-3 times each day
Garlic: This has anti-inflammatory properties that are useful in reducing inflammation and pain brought about by appendicitis
Fenugreek seeds: These seeds are good at preventing mucus from forming around your appendix and hence prevents infection. Fenugreek seeds are a good pain reliever
Almond oil: A soft towel soaked in almond oil is useful for massaging your stomach. This will reduce the swelling and hence minimize the pain
Mint: Add about 3 drops of mint essence in water and drink the mixture to relieve pain brought about by appendicitis. Repeat this every 3 or 4 hours. Mint also cures indigestion and vomiting.
Homeopathy
Some of the homeopathic medication for relieving appendicitis symptoms include:
Belladonna: The remedy is effective in managing appendicitis that is accompanied by fever and a headache
Colocynthis: This remedy is recommended in case the patient manifests in spasmodic pain, exacerbated by indigestion
Arsenicum album: This type of homeopathic cure is suitable in case appendicitis has caused sepsis. It is also effective in controlling diarrhea.
Rhus Tox: This natural remedy is suitable if appendicitis is accompanied by constant pain
Allopathy
Antibiotics are effective in treating mild-to-moderate appendicitis. Most patients present with uncomplicated cases of appendicitis. This means that there has been no rupturing. In such a case, antibiotics can be used to treat appendicitis. However, if the appendix has burst, surgery is the only available option. Examples of antibiotics that have proven effective in treating appendicitis include cefotaxime and cefotan. These antibiotics are also used during surgery to prevent wound infection.
Procedures/methods available under surgery
There are three main surgical procedures for treating appendicitis: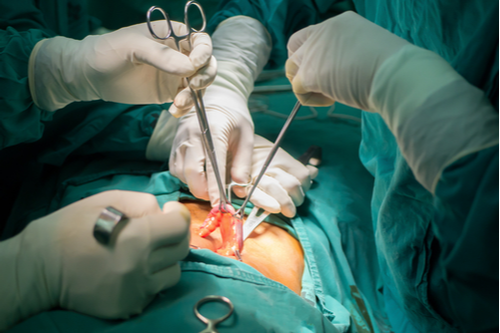 Open appendectomy
This is the standard procedure for treating appendicitis. During the procedure, your surgeon will make a 2-4 inch long incision on the lower right-side of your abdomen. The surgeon will then remove the diseased appendix via the incision made. An open appendectomy is especially suitable in case of a burst appendix. Also, should your surgeon ascertain that the infection has spread, then a laparoscopic surgery is the most logical surgical procedure to use.
Laparoscopic appendectomy
This is a less invasive technique. The surgeon makes 1-3 tiny incisions as opposed to a large incision. The surgeon inserts a laparoscope into one of those tiny incisions. This is a thin tube-like instrument to which surgical tools and a tiny video camera are mounted. The surgeon can view the include of your abdomen using a tiny TV screen. This also enables the surgeon to guide the surgical tools.
The surgeon removes the appendix via one of the tiny incisions. With a laparoscopic appendectomy, you are likely to experience less scarring and pain in comparison with an open appendectomy. The hospital stay also tends to be shorter, while infection rates are greatly minimized. Besides, a laparoscopic appendectomy is characterized by a shorter recovery time.
Laser appendicectomy
This is a relatively new technique for the surgical removal of an appendix. Laser appendicectomy is a minimally invasive procedure, meaning there are fewer incisions. Usually, the surgeon uses a laser beam to cut the supply of blood to your appendix. The same instrument helps to seal the appendix. The procedure takes a very short time, usually 60 minutes. You are also likely to get discharged within 12 hours of the procedure, if there are no complications involved. In case there has been an infection, you may have to stay longer until the infection clears. This can take between 5 and 7 days.
Reasons for surgery
You will require surgery to remove your appendix under the following conditions:
If the diagnostic tests reveal a ruptured appendix
In case the other treatment options have failed
Surgery options
If the only treatment option for your appendicitis is surgery, you may choose to have the procedure at a small clinic, or a larger hospital. The choice of either of these two alternatives will be determined by your individual preference, the urgency involved, the cost of surgery, and availability of a surgeon. Again, choosing to have the procedure at a small clinic has its own share of advantages and disadvantages. Similarly, choosing to undergo surgery at a larger hospital also has certain benefits and drawbacks.
Small clinic
You may choose to have your appendicitis surgery at your doctor's office or a small clinic depending on your convenience. If you opt for this choice, you are likely to benefit from personalized care and attention than would be the case if you were undergoing the procedure at a larger facility. Another advantage is that the procedure is over faster due to fewer delays. This is because a small clinic is likely to have fewer patients undergoing the same procedure than say, at a larger private or public hospital. Besides, your doctor will most probably also perform the surgery and this will help to speed up the decision-making process.
However, there are certain disadvantages of choosing a small clinic for your surgery to treat appendicitis. For example, if there is a rupture in the appendix and sepsis has set in. Therefore, you may need to spend more time at the healthcare facility to treat the infection. Most clinics do not have a recuperating ward. Another disadvantage of having surgery at a small clinic is one individual makes all the healthcare decisions. There is no room to second guess the healthcare professional's opinion. Moreover, the small clinic may also lack in some of the surgical tools or equipment required for the procedure.
Hospitals
You may also opt to have your appendicitis surgery at a private or public hospital. One of the advantages of choosing to have surgery at a large hospital is the assurance and ability of the facility to handle a procedure of this nature. Besides, large hospitals conduct hundreds of related procedures each year. Therefore, the surgeon has gained the skills and experience needed to perform surgery safely and effectively.
Additionally, large hospitals have over one expert who has specialized in appendicitis surgery. Collaboration between experts will result in reduced risk of complication and increased satisfaction with the healthcare services delivered. Also, large hospitals have recuperating wards where you get to recover after the operation. At large facilities, there is a likely chance of delays due to other more urgent procedures.Large hospitals also attend to hundreds of patients each week. Therefore, you may take longer to get an appointment or undergo a surgical procedure.
Cost of appendicitis surgery in different setups
The cost of appendicitis surgery in India varies depending on the nature of procedure, the city where surgery occurs and the surgeon's fee. In Bangalore for example, the starting price for open appendectomy surgery is Rs 25,000. However, the cost can go up to Rs. 2,80,000. In Mumbai, the cost can rise up to Rs. 2,60,000. Noida has the lowest maximum price for appendix surgery at Rs. 20,000.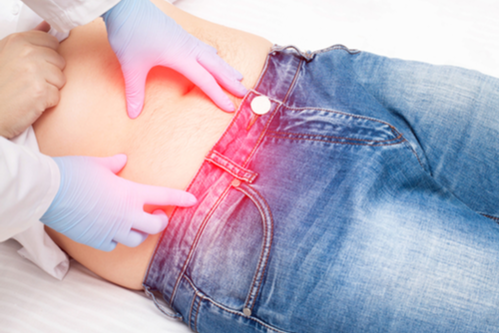 The cost of appendicitis will depend on your insurance plan and whether it will cover for such a procedure. If you opt to undergo surgery at a hospital, you will probably also incur an extra cost for the time you spend at the facility recuperating. These charges are usually absent in small clinics. However, the surgical fees at a small clinic may be higher than in a large hospital. This is because the surgeon at a small clinic only attends to a limited number of patients. Therefore, they have to charge more to cover for the operational cost as well. Surgical fees also differ from one city to another.
Post-op care
Recovery after appendicitis surgery depends on the type of surgery. In case of open surgery, the recovery period is 5-7 days. During this period, you will remain in the recovery ward so that the medical team can continue to monitor the progress you have made. If the patient has undergone laser surgery, with no complications, then the patient can go home after 12 hours to continue with the recovery. You may still experience bruising and pain during the first few days following surgery. Some patient report experiencing conditions for sometime following surgery. This is especially common with keyhole surgery. The pain and bruising will however subside with time. Your surgeon might prescribe pain killers to reduce the pain.
Drink lots of fluids and eat enough dietary fiber as a remedy for constipation
Take sufficient rest while at home to help with recovery
Make sure that you walk each day. This is because walking promotes blood flow. It also avoids constipation. However, ensure you do this in moderation to avoid straining
Do not engage in any strenuous activities like jogging, aerobic exercise or bicycle riding. Wait until you doctor has given you the go ahead
You can shower after 24 hrs following surgery. If you have a drain, it is not advisable to take a shower. Follow your surgeon's instructions to clean the drain
Best option for appendicitis surgery
Laser appendicectomy is the best option for the surgical removal of your appendix. This is because the procedure is minimally invasive. What this means is that there is negligible bleeding involved during the procedure. The surgeon does not make an incision and this is why the risk of infection is negligible. The procedure takes about 1 hour, while the recovery period is faster in comparison with the other surgical options.
If you are considering appendicitis surgery, it would be probably best to identify a healthcare service provider who will walk with you throughout the journey from the point of diagnosis, assist with booking appointments and diagnostic tests and managing paper work.
At goficure, we do this and more. We will provide for your transport on the scheduled day you are to undergo surgery to and from the healthcare facility. We offer discounted booking appointments with some of the leading appendicitis surgeons in India.
goficure will also assist in filling your insurance claim so that you can fully focus on the surgery and make a full recovery.
---