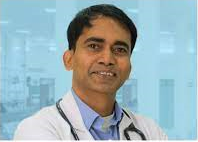 Dr. Vishwesh
Practo Rating
Tata Nagar
Bangalore
Experience
22 years
Languages Spoken
English, Hindi, Telegu, Kannada, and Malayalam
General

Languages
English, Hindi, Telegu, Kannada, and Malayalam

Qualification
MBBS, Diploma in Family Medicine (DFM)

Common Surgeries

Consultation Fee
₹600 ₹500
About Me
Dr. Vishwesh
MBBS, Diploma in Family Medicine (DFM)
General Physician
Overall Experience: 22 years
Registration: Karnataka Medical Council (2001), Registration Number: 58390
Bangalore, India
Dr. Vishwesh is a well-known General Physician with an experience of more than 22 years both in India and the UK. After completing his MBBS, Dr. Vishwesh worked at several Multi-speciality hospitals in Bangalore as well as in Accident and Emergency care. To pursue his postgraduation, he moved to the UK and worked there in several hospitals. Dr. Vishwesh has worked closely with international medical research organizations to learn and invent the latest methods for early diagnosis and treatment of medical conditions.
More about Dr. Vishwesh:
Memberships:
• Dr. Vishwesh is an esteemed member of the Indian Medical Association (IMA)
• He is also a member of the General Medical Council (GMC), UK
• Karnataka Medical Council

Awards & Accreditations:
• Invented 'Real-time sample tracking technology', for Beckman Coulter in the year 2018
• He was the Key Speaker on the "Role of Informatics in Improving Patient Care" at the Singapore Association of Clinical Biochemists, Singapore, in the year 2017.
• Participated as the Guest Lecturer at the SACB Conference in Singapore, in the year 2017
• He was awarded the "Innovation and Entrepreneurship Award" at AIIMS, India in association with Oklahoma State University, USA in the year 2013
• He published his patent for "Neuro-image processing" for Siemens in 2009
• Awarded for "Innovation at work" for a maximum number of Invention Disclosures in Siemens, 2008.
Speciality
• Viral Fever Treatment
• Diabetes Management
• Hypertension Treatment
• Vaccination
• Gastrointestinal Disorders
• Weight Management
• Allergy Treatment
• Migraine Treatment

Qualifications
• Dr. Vishwesh completed his MBBS from DR. B.R. Ambedkar Medical College & Hospital, Bangalore in 2001
• Diploma in Family Medicine (DFM) from the Royal College of General Practitioners, London in the year 2013
• PG Diploma in Clinical Research from Manipal University
Certifications:
• Certificate course in "Specialization in Diabetic Nephropathy" from the Royal College of Physicians (RCP), United Kingdom in 2022.
• Completed "Advanced Certification Programme in Digital Health & Imaging" from the Indian Institute of Science, Bangalore in 2022
• Certification in "Innovation of Products and Services" from MIT- USA in 2016
Experience
• KV Care Medical and Dental Clinic, Bangalore (present)
• Panacea Hospital in Navi Mumbai (2000-2004)
• Queens Hospital, Staffordshire
• National Health Services (NHS)
• Healthcare Consultant at multi-specialty hospitals, in the USA
Publications
• An abstract in Gastroenterology on e-Asia, Hong Kong in 2015
• He wrote two White papers and three Abstracts which were accepted at the International Conference in Colombo, Sri Lanka (e-Health, e-Asia in 2009) and Hong Kong (e-Asia in 2015).
• A Project on "Appropriate use of Radiological Investigations" in General Practice in the UK